5 Reasons Reusable Tote Bags Make The Best Promotional Gifts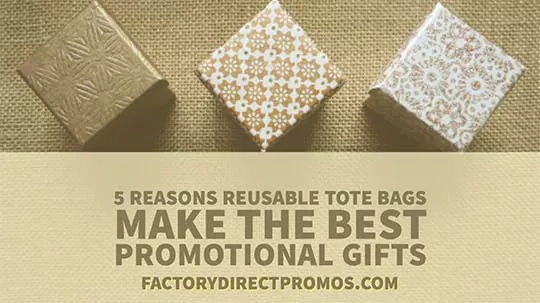 Find Out What Promotional Gifts Like Reusable Tote Bags Can Do for Your Brand!
Promotional gifts are a great way to start or build upon existing relationships with your customers. But not all promotional items deliver the same value. If you are looking for promotional gifts that will leave an impression with your customers, increase your brand's awareness and recognition, and deliver a great ROI than reusable folding tote bags are what you want. Here are 5 reasons reusable tote bags make the best promotional gifts.
Build Relationships

Reusable tote bags serve as a constant reminder to your customers about your brand. A well-made reusable bag can last for several years, and your customers will associate the dependability of your promotional gift with your brand.

Name Recognition

Every time your customers grab your reusable tote bag they will think about your brand. In a short amount of time your customers will recognize your logo and become familiar with your marketing information. When it comes time for your customers to make purchasing decisions this familiarity will pay off. As your customers use your branded bag they will also put your marketing info on display to everyone they encounter further spreading your brand's awareness.

Great ROI

If you are looking to get the most value from your marketing budget than reusable tote bags are a great option. It depends on how often your customers use your branded bag and how they care for the item, but a reusable bag typically delivers about 6 years of use. That means a marketing investment made today will still be paying off in 6 years. This is an unmatched return on your investment.

Good for the Environment

Help your customers go green while also living up to your brand's green goals. If your company has established eco goals it is important that you stay true to these values, and marketing your brand with reusable tote bags allows you to do just that. Reusable bags reduce the need and use of disposable bags which reduces the amount of nonrenewable resources that are used and helps streamline the waste stream.

Really Useful for Your Customers

In order for a promotional gift to really be effective, you need to find something your customers want or need. Reusable tote bags are something that just about everyone has a use for and will definitely use. Reusable tote bags can be used to carry groceries or other purchases home from the store, and with an increase in plastic bag bans they can be really helpful and even thoughtful promotional gifts. The compact size makes it easy for your customers to take your custom branded reusable bag along on the go, ensuring they will always have your bag close by when they need it.
Build relationships, name recognition and sales with your prospects and existing customers by creating your very own, eco-friendly promotional gifts like folding reusable tote bags. We have over 20 years of experience in this industry, so we know how to make the design and ordering process quick and easy. If you have questions or want to learn more get in touch!
Tagged