Reusable Grocery Bags for Michigan? Walker Residents, Meet Catherine Pearce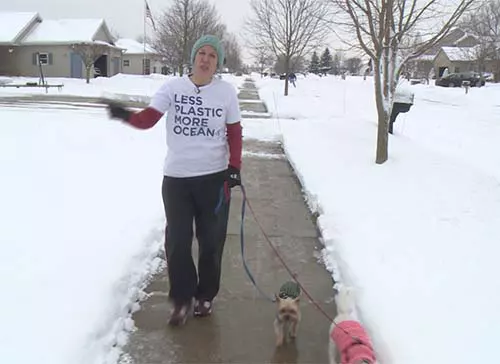 Walker Michigan Woman Pushes for Reusable Grocery Bags!
Catherine Pearce, of Walker, Michigan is on a mission. For a couple years now this teacher has noticed disposable plastic bags constantly showing up in trees and shrubs while walking her dogs. Pearce picks up what she can. She even collects bags full of trash in the spring, when the snow melts. Recently, Pearce decided that some changes need to be made, and she is taking her cause to the City of Walker with an idea to ban disposable plastic bags and increase the use of reusable grocery bags.
Proposed Plastic Bag Ban Will Help the Environment
Plastic takes a toll on the planet. Single-use plastic bags are made using non-renewable resources and when they end up as litter they are a risk to animals and their habitats. By comparison, reusable shopping bags do the same job as disposable bags, but without any of the negative impacts. Reusable bags are made from recycled or sustainable materials, and the durable design means they can be used over and over again. Plastic bag bans are gaining in popularity. Aside from the eyesore discarded plastic bags can be, the expense of trash and litter pickup is typically one of the main reasons that make bans so appealing. An increase in plastic bag bans also means an increase in the need of reusable grocery bags.
Reusable Grocery Bags Promote Your Brand and Save the Planet
Reusable grocery bags are great marketing tools. You can completely customize a bag to look and function exactly how you like. When you create a customized reusable grocery bag it works sort of like a mobile billboard. Your customers can carry it and spread your branding message while also reducing the need and use of disposable plastic bags.
Will Walker Ban Plastic Bags?
Plastic bag bans always signal an increase in the use of reusable grocery bags. We love to see an increase in the use of reusable grocery bags since that means positive changes for the environment. Do you think Catherine Pearce's efforts to ban plastic bags will be successful? Have you seen our bag ban map? We hope we can add Walker, Michigan to our map soon. In the meantime, check out the map and let us know if there are any locations missing!
Tagged