The Pros and Cons of the Michigan Ban on Plastic Bag Bans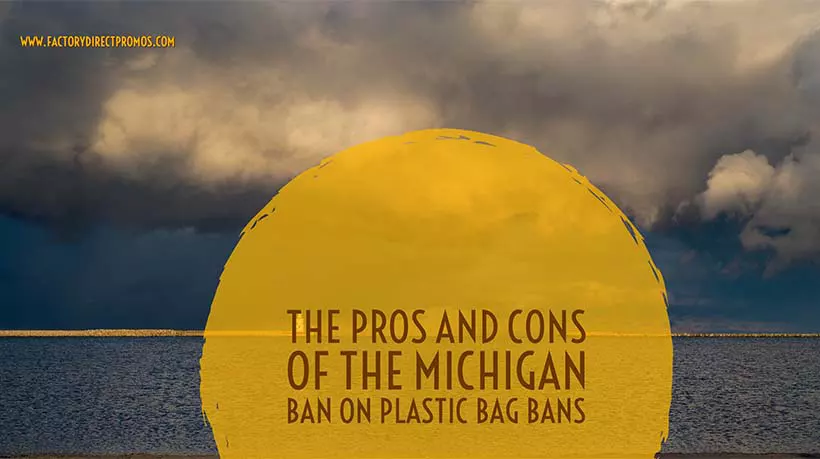 How Did State Bill 853 Come to Be The Michigan Ban on Plastic Bag Bans?
SB 853 was signed into law this past December becoming PA 389 by Michigan Lt. Gov. Brian Calley and prevents municipalities from banning or imposing fees on disposable plastic bags in the state. Single-use plastic bags have a big impact on the environment and this caused some in Michigan to push for bans or fees, but for others bans are viewed as inconvenient and there is concern bans may cause complications for local businesses and shoppers.
It is a complicated issue, but we decided to look at the pros and cons of the Michigan ban on plastic bag bans.
Plastic Bag Ban Movement in the Great Lakes State
In an earlier post we introduced you to Catherine Pearce, a Michigan resident working to get approval on a single-use plastic bag ban in her city. Unsightly litter, particularly plastic bag trash, made Pearce realize a solution was needed for the plastic bag problem. Washtenaw County approved a measure to levy a 10-cent fee on both plastic and paper disposable bags in response to environmental concerns and the growing disposable plastic bag waste-management costs.
The fee was set to go into action in April 2017. With the passage of PA 389 Washtenaw County officials have confirmed the bag fee will not be implemented.
Impact of Plastic Bags on the Michigan
Michigan borders four out of the five Great Lakes. This works out to thousands of miles of shoreline and a very hearty tourism industry. When litter ends up in lakes, or tributaries, the trash tends to accumulate on beaches and shores. This can cause tremendous harm to the environment, wildlife, and tourism. Many in favor of plastic bag bans also point out that maintaining an inventory of disposable bags puts a burden on businesses, and increases prices in stores. Eliminating bags helps the planet and businesses both large and small.
Various Plastic Bag Bans May Cause Confusion
One group that supports the ban of plastic bag bans, is the Michigan Restaurant Association.
Robert O'Meara, vice president of government affairs for the Michigan Restaurant Association said in a recent statement, "With many of our members owning and operating locations across the state, preventing a patchwork approach of additional regulations is imperative to avoid added complexities as it related to day-to-day business operations."
When nearby cities and counties pass their own plastic bag legislation that differs from their neighbors, it can be confusing for consumers. For instance, plastic bags may be banned in one town, but available one town over, or available for a fee a few more towns over.
Individual city or county bans may also differ in terms of the impacted businesses. Some cities include restaurants in their laws and others focus just on large stores, so if two cities both have bans that does not mean their plastic bag bans are the same.
Banning Plastic Bag Bans Is Becoming a Trend
When it comes to banning plastic bag bans, Michigan is not alone. To date Idaho, Missouri, and Arizona have similar bans in place. The notable exception to Arizona's ban is Bisbee, which passed a disposable plastic bag ban prior to the statewide law banning bans.
Since Bisbee's ban predated the statewide law they were able to keep their ban in place. Several cities in Texas currently have plastic bag bans or fees on the books, but the state government is working to establish a law banning plastic bag bans. At this time such a law has not passed.
Follow the Plastic Bag Bans Movement
There is certainly strong bag ban sentiment in Michigan. We have examined the pros and cons of plastic bags at length in the past, and will continue to keep tabs on new developments.
To learn more about the plastic bag bans movement check out our  interactive map. It tracks bans and fees, both successful and not-so-successful throughout the world and lends an interesting perspective to the movement.
Reusable Bags Will Help Your Business
Regardless of what type plastic bag ban laws exist in your area, or if there are no laws in your area, reusable bags make excellent promotional tools. We are here to help. Your business can make a positive impact on the planet and your prospects by marketing with custom reusable bags.
We work directly with our factory which keeps our costs down, and we pass this cost-savings along to you. Get started creating your one-of-a-kind custom reusable bags HERE or contact us today!. After more than 20 years in business, we know how to make the process easy and affordable.