South Carolina Moves Closer to a Ban on Plastic Bag Bans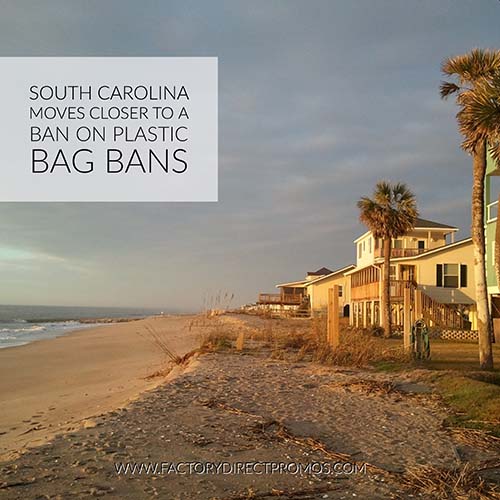 Fate of Plastic Bag Bans in South Carolina to Be Decided by State Legislators
A bill in South Carolina will determine if municipalities can regulate "auxiliary containers," such as disposable bags and cups. The bill covers a wide range of containers made from a variety of materials, but single-use plastic bags are at the center of the debate. Essentially, this measure will determine if cities, towns and counties can or cannot pass plastic bag bans.
The bill was recently sent to the House floor and state legislators will vote to decide. If passed South Carolina would join the ranks of Michigan where plastic bag bans were recently banned.
Plastic bag bans require a change in consumer behavior, but they can have a major impact for the better on the environment. Furthermore, plastic bag bans can have a significant impact on your brand's marketing.
Plastic Bag Bans Already in Place in South Carolina
Two South Carolina cities currently have plastic bag bans in place. Single-use plastic bags have been banned in Isle of Palms since 2015. Folly Beach has two different plastic bag laws on the books.
The first was implemented in October 2016 and prohibits people from bringing disposable plastic bags, Styrofoam coolers and other containers to the beach. The second ordinance prohibits Folly Beach retailers from distributing single-use plastic bags; this ban became effective on January 1, 2017.
Both of these cities are coastal communities, and both bans were implemented in an attempt to reduce litter on beaches and in the ocean. An addendum added to the proposal would allow both cities to retain their plastic bag bans if a statewide ban on bans is approved.
To track plastic bag bans in the U.S. and the world check out our plastic bag ban map.
Home Rule vs. State Involvement in Plastic Bag Bans
Those in favor of limiting the power of municipalities to impose plastic bag bans or other forms of regulation, cite the confusion it can cause if some towns have such measures in place and neighboring towns have different measures, or no measure at all.
While those who oppose the bill, including the mayors of both Isle of Palms and Folly Beach, believe this measure infringes on home rule. Local governments should be able to address issues facing their communities, and what is best for one community may not be a good fit for another city.
Putting Reusable Bags to Work for Your Brand
Your business can make a positive impact on the planet and your prospects, regardless of existing or non-existent plastic bag bans in the areas you do business, by marketing with custom reusable bags.
Get started creating your one-of-a-kind custom reusable bags HERE or contact us today! After more than 20 years in business, we know how to make the process easy and affordable
Tagged