3 Trade Show Marketing Ideas You Haven't Thought of Yet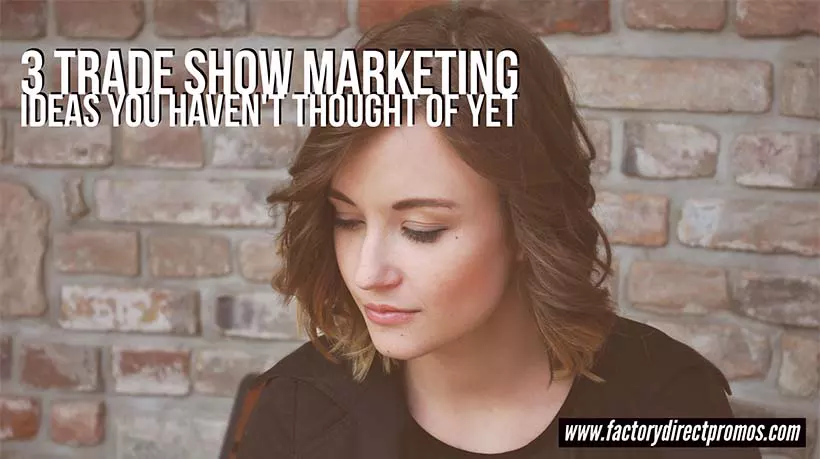 Get Leads and Build Relationships at Your Next Event
Some of the best trade show marketing ideas are ones that you may not have thought of, yet. Today I would like to offer up three trade show marketing ideas that have worked for us to increase leads and business. Simply incorporating one of these tips into your next trade show or event can yield major results. Keep reading to learn more!
Sign Up for the Trade Show News Network Email Newsletter

Stay up to date on trends and tips in the industry with TSNN's email newsletter. TSNN are truly leaders in the space and when you utilize their resources you will be better prepared and informed for your next event with lots of trade show marketing ideas. Their free Top Trade Show Lists are a goldmine of free data to utilize. TSNN paid lists are worthy of consideration, as well as they contain specific contact information.

Take Advantage of All Marketing Avenues Offered at Each Show

It may be time consuming to fill out business profiles on show websites, create press releases and marketing kits, and send summaries to printed publications for the show, but it is well worth it. This is how people attending the show will know you will be there and where to find your booth. Don't forget to ensure your company is represented on the show app. This is a place where many brands fail to show up, so be sure to check and see what opportunities exist, such as posting press releases or even advertising with GIF banner ads.

Create Custom Reusable Trade Show Bags

Custom reusable trade show bags that are targeted to your market will be the hit of the trade show. I would be remiss when talking about trade show marketing ideas if I did not mention this BIG opportunity many brands are missing. Yes, a fair number of marketers hand out reusable trade show bags at expos, but they are incredibly uninspired and totally missing the mark. You want to create the "It" bag of the show. The bag everyone wants should be yours, and it should be used as a great start to a mutually beneficial business relationship. Offer the best bag of the show that everyone wants, and you will increase traffic to your booth and in turn, you will seen an increase in leads.
Put Our Trade Show Marketing Tips to Work for Your Brand
What trade show marketing ideas do you use that work to get leads and build profitable relationships? We would love to hear from you in the comments below or via social media. Feel free to share this post and give us a shout out @FactoryDPromos on Twitter and @FactoryDIrectPromos on Facebook.
Tagged