Why Custom Reusable Grocery Bags Should Be Offered by Small Businesses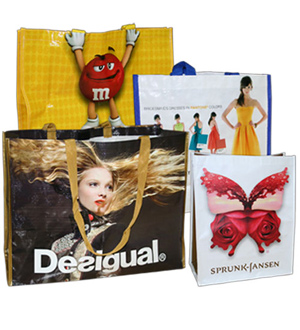 Offering Custom Reusable Grocery Bags Could Give Your Business a Leg up on the Competition in the Local Community!
Non-action is no longer an option in the continuous battle to improve the environment. Providing an alternative to plastic bags is a step in the right direction.
Large companies across multiple industries have started to make a concentrated effort towards reducing their carbon footprint in order to become more environmentally friendly and sustainable.
Take Whole Foods' Green Mission for example. It focuses on "The 3 R's," (reduce, reuse, and recycle) and covers everything from their day-to-day operations to the company's long-term energy supply.
Small companies should be looking to do the same, but keep in mind, at the end of the day, it's the customers that must make the decision to switch to reusable.
While the customers have the power to take action, it's the company's responsibility to provide the greener option and to keep their customers informed of the potential they have to make a change. So, why should small businesses consider expanding their options at checkout and begin offering reusable bags?
There's research that points towards the potential environmental advantages of a shift towards reusable bags, and they go beyond improving the community.
If You Want to Make a Difference, Start Small
A sturdy, customer-oriented small business has the potential to prop up the community. Playing the role of a small business that strives to grow, innovate, and improve the community can be beneficial for all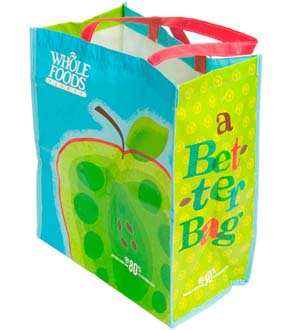 Where should you start? Consider revisiting the role of single-use bags in your community and in the environment. Look into offering custom reusable grocery bags as an alternative to plastic. Offering custom reusable grocery bags is a cost-effective way to market your business while simultaneously promoting a more environmentally-conscious community.
The benefits of a transition to provide customers with an eco-friendly option extends to their pockets as well. Customers shouldn't be expected to pay invisible fees in order to counter what businesses spend on plastic shopping bags, and by installing reusable grocery bags as an option, that becomes possible. While investing in reusable bags might cost more up front, their durability will save money in the long run.
Separate Your Business and Stand out From the Competition
There is value in becoming known in the community as the business that offers custom reusable grocery bags. The opportunity to develop an environmentally-friendly reputation through your association with reusable grocery bags shouldn't be taken lightly. Additionally, your small business will also have an opportunity to improve brand awareness.
Ultimately, a properly executed promotional product is a transportable billboard that provides a service to the customer, making it the gift that keeps on giving.
Final Thoughts
Not every customer will be willing to change from plastic to reusable unless they are aware of the potential change that can be made. However, if you give them the option of going with the reusable bag, perhaps logic will prevail.
Next time you head to the store, think about whether a reusable bag would be a better option. Contact us today to learn more.
Tagged