If a Girl Scout Can Do THIS, What Can YOUR Brand Do?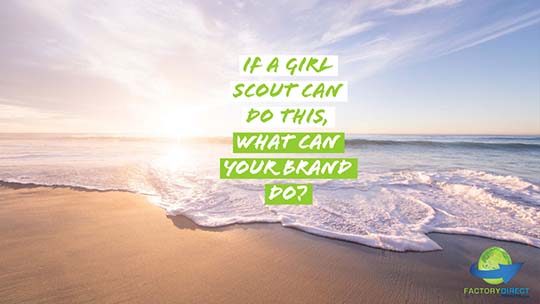 Zoé Mueller Has Started a Movement
We recently told the story of Zoé Mueller, a Florida Girl Scout working to put an end to plastic pollution. Zoé is working with local retailers in her hometown to discourage the use of disposable plastic bags. Learn why Zoé took up this cause, her plans for the future and what your business can do to help!
Finding Inspiration
During an interview with a local news station, Zoé recently shared her story. After attending a conference through school, Zoé learned about the damaging impact of plastic trash on the environment. Plastic is bad for the planet, it does not biodegrade – it photodegrades, which means when exposed to the elements it breaks down into smaller and smaller pieces of plastic. The oceans are filled with these tiny pieces of plastic which now outnumber plankton six to one. Cleanup efforts are necessary to address this mess, but it's also important to stop the problem at the source and eliminate unnecessary plastic.
Community Effort
A law in Florida prevents municipalities from banning single-use plastic bags. With a ban out of the question, at least for now, Zoé found a creative solution to put an end to plastic use. Zoé launched the Plastic Free Mount Dora movement. Essentially, Zoé has partnered with local businesses. The shop owners vow to stop handing out single-use plastic bags and hang a sign in their window, showing their support of the movement.
To date, Plastic Free Mount Dora has experienced tremendous success. Some local businesses are resistant to join the movement, but they have expressed support of the cause. Single-use bags have become standard, and many consumers expect their purchases to be packed for them in a bag. Retailers are understandably reluctant to disappoint their customers, and supplying more durable, paper or reusable bags is an added expense.
Reusable Bags Provide a Solution
When businesses and consumers want to use less plastic and reduce the negative impact of plastic on the planet, the best solution is to turn to reusable shopping bags. The sturdy construction and durable materials enable these bags to be used repeatedly. One reusable bag can last for several years and do the work of thousands of disposable plastic bags.
How Your Brand Can Help
Going plastic-free can be a challenge at first, and it definitely requires some planning and thinking things through, but it is possible. Your business can help by creating custom reusable bags as promotional products. Your branded bags will give your customers a way to carry items home from the store without using disposable plastic bags. These unique bags will also spread your marketing message and work to promote your brand.
Looking Ahead
The Plastic-Free Mount Dora movement has received a lot of positive support and is continuing to go strong. Zoé is planning to launch a new program, Trash Talk with Zoé, where she will visit schools to talk about recycling awareness and pollution. After that, Zoé plans to start a petition to overturn the Florida law preventing disposable plastic bag bans.
Learn More About the Bag Ban Movement
Disposable plastic bag bans are becoming more and more common throughout the world. This is a movement we at Factory Direct Promos, have been tracking for a number of years. To learn more about the bag ban movement and get a useful visual representation, check out our interactive plastic bag ban map. We track cities, counties and even countries that work to pass laws banning or restricting the use of disposable bags. This map shows the successes, as well as failed attempts, for a comprehensive view of the bag ban movement.
Stay Connected
It is so exciting to see kids and teens making changes and trying to help the planet and enact lasting and positive changes. If kids can do it, we adults can, too! Zoé is very inspiring and is making substantial strides in her efforts to protect the planet and go plastic free. Find Zoe on Instagram (not available anymore) for more tips about going plastic free and general awareness of the plastic problem. Reach out to learn more about custom reusable bags and how you can take your marketing efforts green!
Tagged