Plastic Bag Ban in Chile…What Your Business Needs to Know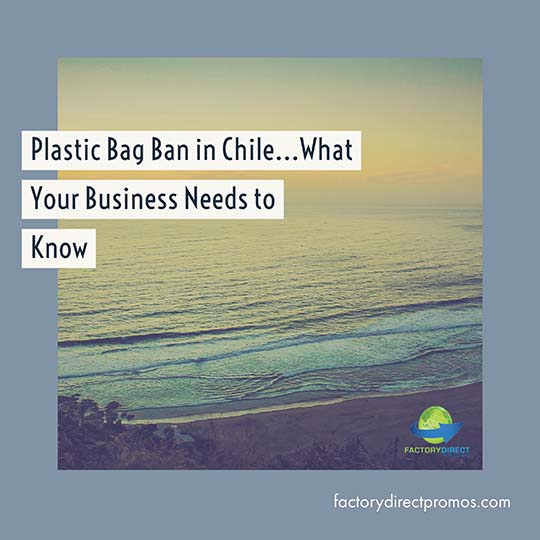 Chile Plastic Bag Ban Takes a Stand Against Plastic Pollution
In support of reusable bags and in a stand against plastic pollution, Chilean President Michele Bachelet announced big news last week at the 72nd Session of the United Nations General Assembly in New York. Over the next 12 months, Chile plans to ban disposable plastic bags from all coastal cities in Chile. This is the first country in North or South America to issue such a ban and more are sure to follow.
Environmental Concern
The Chile plastic bag ban bill should be ready to present to Congress by October, and it is anticipated the bill will easily pass. Concern over the environmental impact of plastic litter is a major factor behind the ban. Chile's environment minister, Marcelo Mena explained, "The ban is fundamental to protect the oceans and their biodiversity. It also covers the issue of rubbish management, which we must deal with in the short term, because the consequences of not acting put the preservation of these species at risk."
Impact on Businesses
Once passed, the single-use plastic bag ban will impact 230 municipalities. Businesses that do not follow the ban will face fines up to $300. With single-use plastic bags banned, retail businesses will have to find alternative bag options. Reusable shopping bags are an acceptable replacement. The durable construction means the bags can be used repeatedly and will eliminate the need for single-use bags. Businesses can choose to give reusable bags away as a gift to customers in the beginning on the ban. Businesses can also create customized reusable bags that bear their logo and sell them.
The Problem with Plastic Litter
Discarded plastic trash ends up in waterways and causes substantial damage to wildlife and their habitats. This is not only damaging to the environment, but it also hurts the tourism industry which is a big part of the economy along the coastal region. The Chile plastic bag ban will eliminate the harmful impact these bag have as litter. Officials also hope to coordinate beach cleanups to further erase the problem of plastic pollution.
Do Your Part to Help
Your business can help by creating custom reusable bags to promote your brand and reduce the need and use of disposable plastic bags. Reusable shopping bags come in a variety of sizes and styles and will spread your brand's marketing message for years. Eco-friendly promotional products also reduce the environmental impact of your brand and helps reduce litter. For factory direct pricing on all of your custom reusable bags, contact Factory Direct Promos.
Tagged