How to Create a Multifamily Housing Recycling Program in 3 Simple Steps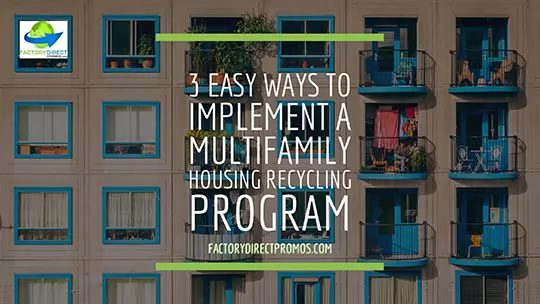 3 Easy Ways to Implement a Multifamily Housing Recycling Program
From managers and recycling coordinators, to the residents themselves, figuring out a simple multifamily housing recycling program can be a confusing hassle. Although statistics from Cascadia Consulting Group show that approximately 72 percent of multifamily survey respondents reported that recycling was "very important" to them personally, the recycling rates do not stack up to single-family dwellers.
Although multi-family residents' attitudes about recycling are in line with those who live in single-family dwellings, in 2001 (the last time a multifamily recycling study was done), the EPA reported the recycling rate was only 14.6 percent. Contrast that recycling rate to single-family dwellers living in Denver who recycle at rate of 71 percent and those living in Washington, D.C. who hit the 26 percent mark. Factory Direct Promos is changing the way the multifamily housing industry looks at recycling with three, simple steps ending at reusable recycling bags.
3 Simple Steps to Create a Multifamily Recycling Program
Desire – First, for a successful multifamily housing recycling program, there must be a desire to obtain compliance from residents. It is clear from the research that has been done, that there is no difference in the desire of multi-family dwellers compared to single-family dwellers. The majority of people  understand, end even want, to take part in taking care of our environment in this simple way. Two problems in the industry that keep people from recycling is that a multifamily housing recycling program can be difficult, messy and cumbersome and inefficient. This is where the properly designed program, and reusable recycling bags, come into play.
Design – Many multifamily housing recycling programs fail in design. Yes a recycling dumpster  is on property, perhaps many are on property but getting residents to take their recycling to it is challenging. Trying to use bulky recycling bins is not the answer. They are too big and take up way too much space. Additionally, they are too heavy to carry to the recycling dumpster. The answer is to create reusable recycling bags. The bags take up very little space, they are handy to use, easy to wash and sturdy. Even better, they offer an easy way to accomplish your last item on our list – education.
Education – In order to gain compliance and increase recycling rates in multifamily housing, residents must understand exactly how to use their reusable recycling bags. Luckily, this is easy information to put right on the bag. Multifamily recycling just got easy.
Multifamily Recycling Is in The Bag
At Factory Direct Promos, multifamily recycling is in the bag. Our direct to the manufacturer model means the lowest pricing for you. More importantly, our 20 plus years in the industry and our commitment to under-promise and over-deliver means you get exactly what you want and your recycling problem gets solved easily. 
Contact Factory Direct Promos and ask for a custom quote on your custom reusable recycling bags. Why wait? It couldn't be any easier.
Tagged