How Best to Handle Your Marketing Budget During a Crisis Like COVID-19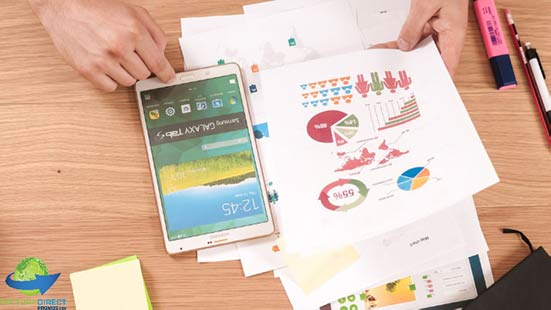 HBR Research Says Do This With Your Marketing and You Will Be in the Black Once a Crisis Is Over
Economic downturns are an unfortunate reality and we are in the midst of such a downturn right now. It's too early to know if we'll enter into a full-fledged recession or how long until things rebound, but many businesses are taking action to protect their brands and keep things afloat.
There are lots of strategies to protect businesses during recessions. One proven method is to promote your business with custom reusable shopping bags. Marketing is always important, but times like these prove the true value and long-term impact of marketing. Before you start cutting your marketing budget, find out how to handle your marketing budget during a crisis and how we can help.
Learning From the Past
While this may be the first time we've had to deal with the economic impact of a pandemic on this scale, this isn't the first time we've had to deal with economic downturns and recessions. Several years ago HBR looked at different strategies employed by businesses during times of recession.
It turns out that the most effective way for a business to weather the bad times is to take an approach that is both offensive and defensive. This means that while some cost-cutting measures may be necessary, it is important to make sure those measures are thoughtful and will minimize long-term ramifications. It is also necessary to plan for the future through continued efforts to improve and grow the business.
Practical Application
A great example of this strategy is the direct mail firm, Postcard Mania. Joy Gendusa, the founder/CEO of Postcard Mania has weathered storms before, and she has learned from these experiences.
Gendusa shared that, "PostcardMania was founded in 1998, and most of our clients were in the mortgage and real estate industry. This all changed when the housing bubble burst and ushered in a recession in 2008. Prior to that point, 46% of PostcardMania's clients were in the real estate and mortgage industries.
"We lost thousands of clients almost instantly, and our revenue dropped significantly. We had been trending up the entire year and were poised to have our best year ever — but we ended 2008 with revenue down $150,000 from the year before. And this was the first time in PostcardMania's history that revenues were down year over year.
"If only that had been the end of it!
"Our revenue continued to suffer. The clients I lost weren't coming back anytime soon, and I was dead set against laying anyone off. That was not an option for me.
"If I wasn't going to cut staff, advisors told me that the next best option would be to cut our postcard marketing budget. They looked at the price of our postcard marketing per week and said, "Wow! You could save a LOT of money by cutting that way back."
"So, against my better judgment, I listened and cut our postcard marketing back.
"This exacerbated our issues big time.
"Whereas we lost $150,000 in 2008, we lost over $4 million in 2009, about 15% of our total revenue. That's when our own crisis hit, almost a year after the housing crisis and market collapse. Some weeks, I wasn't even sure we could make payroll — but I always found a way to pay everyone.
"So, after months of closely tracking and analyzing our numbers, I realized that in order to get revenue back on track, we needed to get leads back on track — and that meant sending more postcards.
"I increased our marketing budget back to its pre-crash total, and our numbers quickly recovered. We made up lost ground and then some.
"That decision — to re-instate my marketing — saved my business!"
Cutting marketing expenses will save money in the short term, but will end up reducing incoming business in the long-term. Currently, during COVID-19, Gendusa is once again prioritizing payroll and marketing for her business. Her belief (garnered from past experience) is that by continuing to promote her business and keep her brand front of mind for her customers, they will remember her business and return as soon as possible.
What Can You Do
Customers cannot do business with your brand if they forget about you. Now is the perfect time to create a customized reusable shopping bag. Everyone is shopping, so there is still a need for reusable shopping bags.
Providing reusable bags shows your customers that you absolutely care about what their needs are right now and what they're going through. It also shows others that you have a commitment to the environment. Just like reusable water bottles, the benefits are numerous to owning your own personalized bag. Reusable bags are made from recycled or sustainable materials and also eliminate the use of single-use bags, making them eco-friendly and washing is a breeze.
Benefits of Reusable Shopping Bags
Bags are kept for an average of 11 months.
Custom bags deliver over 3,300 impressions during their lifetime.
The cost-per-impression of reusable bags is typically fractions of a cent.
Customers are more likely to do future business with a brand that gave them a reusable bag.
Let's Do This
We've been helping our customers design unique and cost-effective promotional bags and products for over 10 years. This means that we have really figured out how to streamline things to save you time and money. You already have enough to do and worry about during this crisis with COVID-19, so we're here to help with your marketing needs.
Contact us and we will take care of everything and get your custom reusable shopping bags into your shopper's hands ASAP.
Tagged