Choose the Right Fabric for Your Custom Reusable Bags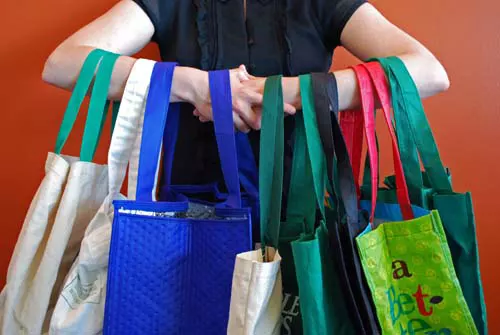 Choosing the Fabric for Your Custom Reusable Bags
Reusable bags are a highly visible way to promote your brand and they're really popular with most consumers who are always excited to get their hands on a custom reusable bag. If you've already made the decision to promote your brand with a reusable bag, selecting the material for your bag can be an equally important choice.
We offer a wide array of fabrics and while they all make great reusable bags, there are different characteristics to each material. In order to help you understand these materials and make an informed decision, we rounded up some of the most common questions we field on the topic of fabrics and the answers to these questions. You can check out this info here or read on to learn more.
Sustainable Fabrics Create a Natural Look
The material sets the tone for the bag and starts a dialog with your customers regarding your stance on eco-friendly issues. Sustainable materials show your customers that you are conscientious of the impact your brand has on the environment and that your brand is doing your part to minimize that impact.
Sustainable fabrics are plant based materials, and they are sustainable because the cycle of planting, growing and harvesting can happen again and again. When harvested, the plant fibers can be processed and woven into a fabric and in turn, this fabric can be used to create reusable bags, among other things. The texture and finish of the material can vary greatly based on the plant fiber used and the processing techniques. Cotton and bamboo usually feature a tight weave that creates a smooth finish, while jute has more of a rustic appeal and typically features a looser weave.
Make a Statement with Recycled Materials
Recycled materials indicate a level of resourcefulness and awareness on the part of your brand. Unfortunately, a lot of the plastic produced is not recycled but by utilizing recycled plastic, your company is finding a use for a material that would otherwise have no purpose and creating an additional demand for recycled materials.
Hopefully, you will lead by example and encourage others to use recycled materials whenever possible and work to increase recycling rates and minimize the amount of recyclable materials that end up in landfills or as litter.
The primary differences when it comes to the recycled materials, is what types of plastics are recycled and how the manufacturing process to create fabric. For instance, polypropylene (PP) is a material we use often, it is made using pre-consumer plastic packaging and during the recycling process it is made into threads. When these threads are woven together this creates a textured fabric known as woven polypropylene. When these threads are bonded together the resulting fabric creates the smooth finish for a non-woven polypropylene bag. Rounding out our recycled material lineup is RPET, which is made from the plastic fibers of recycled water bottles which are bonded together.
Find the Material That Fits Your Brand
All of these materials make beautiful and useful reusable bags that will leave an impression with your customers and everyone they encounter while carrying your branded bag. In order to determine which material is the best fit for your brand, you need to consider the look you are going for and your price point. If you have more questions about the various materials we offer, or the design process or if you're ready to place an order let us know by filling out a quote request form on every page of our website and we can help you out right away!
Tagged