Custom Promotional Cooler Bags As Low As $0.59!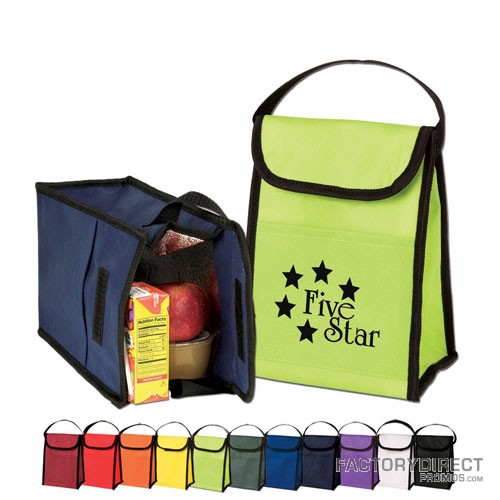 Promotional Cooler Bags Are Perfect For Spring and Summer Marketing!
Custom promotional cooler bags are great to tote frozen goods home from the store, lunch to work or school, or snacks on the go, but no matter how your customers use a custom branded insulated bag they are certain to get your brand noticed. Our custom insulated bags start as low as 59-cents, so you can help your brand and your bottom line. Plus, now is the perfect time to promote your brand with a cooler bag.
Eco-Friendly Bags are Safe and Durable
Many of our insulated cooler bags are made from a non-woven polypropylene material and features an insulating lining made with polyester fibers coated with thermal film. This design keeps cold items cool and hot items warm, so these custom bags are great for bringing a warm appetizer or a chilled dessert to a party. The quality construction ensures these cooler bags will deliver years of dependable use.
When you opt to market your brand with a custom cooler bag you are creating a versatile promotional item that your customers can use again and again. Our eco-friendly reusable cooler bags are green partly because they are reusable and made from recyclable materials, but they are also lead-free, making them safe to use.
Create a Bag Unlike Any Other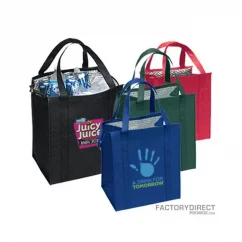 Aside from the insulating material, you can customize the design of cooler bag however you'd like. You can customize one of our stock bags by imprinting your branding info or alter the design to fit your customer's needs. Adjust the size, add pockets or a plastic bottom insert for additional support, change the handle length, add a closure method, select the color and you're on your way to a one-of-a-kind bag that showcases your branding message while fulfilling a need.
When customizing the design of a promotional cooler bag you can really do whatever you want.  You can make simple changes to an existing bag design or you can completely overhaul a bag style for something completely unique. By creating a useful cooler bag your customer's will likely reach for it time and time again, so not only will they reinforce your branding message with themselves, but they'll also put your marketing info on display and spread your info.
Let Us Know If You Have Any Questions
To help you get started check out our site and look at the different styles and options we have available. If you order from our in stock selection we can quickly print your branding message and turn the bags around to you in a matter of weeks. Custom designed bags take a little bit longer, but ultimately you are getting a well-made bag built to your exact specifications – all for an incredible value.
Remember that the more bags you order the lower the price per bag, so stock up! Do you have questions or are you ready to get started? Fill out a quick quote request on this page or give us a call at (866) 222-0949 and we can help you create your custom promotional cooler bag.
Tagged