End of Year Blowout on Reusable Shopping Bags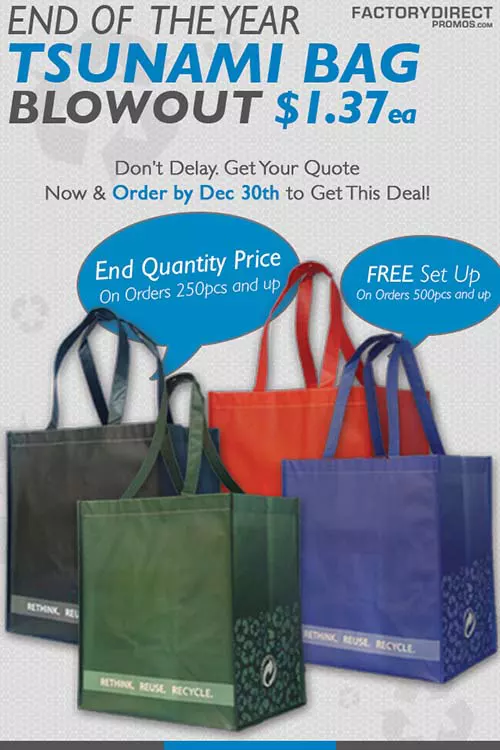 Get Great Marketing ROI in 2017 with This Deal on Reusable Shopping Bags!
End Quantity Pricing, FREE Set UP and the laminated, recycled material of our reusable shopping bags make this deal too good to pass up for marketing and retail use. Claim this deal and you get the absolute lowest price possible on one of our top selling reusable shopping bags, the eco-friendly qualities of a recycled fabric AND the function of the laminated cloth. The lamination process gives the material extra durability and makes it water-resistant which is a great quality for reusable shopping bags. Don't Delay. Get Your Quote HERE Now and Order by December 30th to Get This Deal!
Quality Design and Materials Deliver Results
Our Tsunami bags are designed to be durable and functional. The traditional shopping bag design makes these reusable shopping bags great for carrying your purchases home from the store or market; but their usefulness extends further.
The two long handles and spacious size makes these reusable bags great for carrying just about anything anyplace. The laminated fabric is made from recycled plastic, meaning new purpose and function were given to existing materials, and these bags will align with your company's green goals and initiatives.
The laminated finish gives the fabric durability, so these reusable shopping bags will hang in there for several years, even if they are wet due to condensation caused by frozen items thawing, or a leaky beverage container, or inclement weather. Durability translates into long-lasting use, which means these reusable shopping bags will be getting your branding info out there and seen for a long time.
Customize Your Reusable Shopping Bags to Fit Your Branding
Making our Tsunami reusable shopping bags fit into your branding is really easy. This style of bag comes in a variety of material colors. We also offer 1-color printing, so you can feature your logo, contact info, or any other relevant and necessary info you want to convey. Full-color printing is available as well.
We can match to Pantone colors to ensure this marketing tool will be consistent with your website and any other branded items you have. If you want to customize this bag further, like for instance, if you want to add pockets or a headphone port, change the length of the handles or adjust the size we can completely make these alterations.
Customizing the design of your reusable shopping bags will add a few weeks on to the turnaround and impact the quote, but if this is something you're interesting is doing, or if you have questions please get in touch and a member of our team will follow up with you.
Act Now to Score a Great Deal on One Of Our Top Selling Reusable Shopping Bags!
Act now and get the most for your marketing budget with our latest eco special. Promote your brand in an environmentally responsible manner while also scoring a great deal on one of our top selling reusable shopping bags.
Our Tsunami reusable shopping bags are a tried and true promotional tool that are eco and deliver a great value.
In order to get this deal your order must be submitted by December 30, 2016, so if you'd like a quote, head here HERE, and our team will get back to you.
Tagged