Regardless of Law, Girl Scout Zoé Mueller Persuades Mount Dora, Florida To Go #BagFree!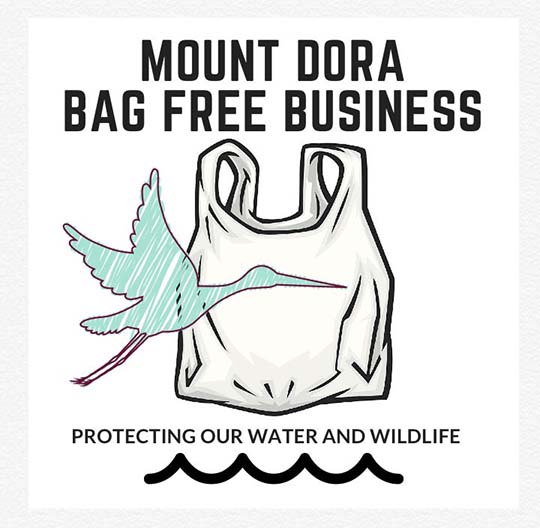 Thumbing Her Nose at Florida Law Banning Plastic Bag Bans, Girl Scout Zoé Mueller Leads Mount Dora, Florida to a More Sustainable Future
In May of 2017 when Girl Scout Cadette Zoé Mueller attended the Montessori Model United Nations, her eyes were opened to the plight of our world and plastic pollution. So she decided to do something about it. But imagine her surprise when she discovered that the state of Florida has placed a ban on plastic bag bans?
But she didn't let that stop her. Just like the majority of consumers today, Zoé knows that plastic bags are bad for the environment and for business. Using single-use plastic bags is just bad any way you look at it. So instead of giving up or working to change existing laws in the state of Florida, she decided to take a more positive and pragmatic approach.
"We have been lured into complacency by the convenience of these bags without considering the cost. They are so  cheap for businesses that you are offered one even when you purchase something so small you could carry it in your hand." – Zoé Mueller 
The Problem with Single-Use Plastic Bags According to Zoé
There were many things about the use of single-use plastic bags that concerned Zoé like:
160,000 plastic bags are used globally every second. Each bag is only used for roughly twelve minutes total.
Plastic bags were introduced to supermarkets in the 1970s. In the US alone 100 billion plastic bags are used yearly, that's more than 300 bags per person.
The great pacific garbage patch is a floating landfill in the Pacific Ocean that is more than twice the size of Texas and weighs more than 7 million tons
Marine life mistake floating plastic for food.
Over 1 Million seabirds and 100,000 sea mammals are killed each year due to plastic pollution.
The fish that you order at dinner has probably ingested some plastic particles. So, indirectly you are eating plastic too.
Plastic bags don't just disappear. They photo-degrade. This means that they just break down into smaller and smaller pieces. Tiny particles of photo-degraded plastic outnumber plankton 6 to 1.
This is a problem that compounds upon itself each day.
But the State of Florida has made it against the law to ban the use of single-use plastic bags or to tax their use. Florida law states that, "no local government, local governmental agency, or state government agency may enact any rule, regulation, or ordinance regarding use, disposition, sale, prohibition, restriction, or tax of such auxiliary containers, wrappings, or disposable plastic bags".
"The State can prohibit us from banning plastic bags but it cannot force us to use them. We can all make a difference just by politely saying, "No Thank You. I don't use plastic bags." – Zoé Mueller
Zoé was determined that sustainable change could happen if a new approach was used. She decided to work to change her community and at the same time work toward earning the most prestigious award a Girl Scout of her age can earn, the Silver Award.
"Earning this award shows that I am an organized leader who is determined and dedicated to improving something in my community." – Zoé Mueller
The Idea Behind #PlasticFreeMountDora
Zoé's work began to point her community toward a more sustainable future. But she did not want to force businesses in her beautiful, idyllic hometown, tourist destination of Mount Dora, Florida to stop using single-use plastic bags through plastic bag bans or fees. Zoé decided that she could make a positive change in spite of the existingFlorida law banning bag bans. She decided to make consumers more aware of making a more positive choice with custom reusable shopping bags, by highlighting the businesses that voluntarily participate in a #PlasticBagFreeMountDora.
To garner support and raise awareness, she did everything right! Zoé made a Plastic Free Mount Dora website , set up a @plasticbagfreemountdora Instagram account, created a hashtag (#plasticbagfreemountdora) for her mission and designed a beautiful logo.
The Logo
The logo is an integral part of her plan. Zoé designed the logo so that it can be placed in a visible location in the shops in downtown Mount Dora that do not offer plastic bags. This way both tourists and locals can see where the most environmentally friendly places are to shop. This matters because as we have been reporting on this blog, consumers just like Zoé, understand that plastic bags are no good,
Zoé feels the logo will serve to highlight the issue and start a conversation that is overdue.
"This program is sustainable, and will require very little maintenance. It will also help limit the amount of plastic bags being used. This program will be good publicity for our town, allowing us to become a leader in the state of Florida by planting the idea of a reward rather than penalty system that other towns and cities can adopt." – Zoé Mueller
Then she set her sights on Mayor Girone and City Hall!
Mayor and City Council React to The Plastic Bag Free Mount Dora Plan
Zoé gave an impassioned presentation to the Mount Dora City Council and Mayor Girone asking them to endorse her program. In a unanimous vote, her program was endorsed and in doing so, the city of Mount Dora has taken a positive step toward protecting our environment and wildlife.
Mayor Girone has high hopes for the program and a mention was made that this plan can be replicated throughout the entire state.
And to think, it was just one Girl Scout who had a plan for a more sustainable hometown.
The Tide Has Turned
Any business that thinks they can get away with using single-use plastic bags is up for a rude awakening. The existence or lack of plastic bag bans and fees is no longer the most important factor consumers take into account when deciding where to shop. Consumers today want to see that the retailers they give their money to truly care about the environmental issues they are concerned about. These days, handing a plastic bag to a shopper is just bad business.
Create your own custom reusable shopping bag for your business HERE!