Create Customized Reusable Bags in Under 5 Minutes Your Customers LOVE!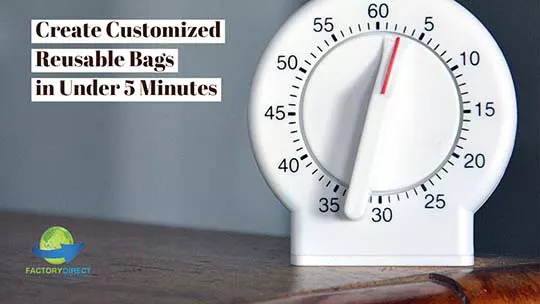 Ditch Disposable and Create Something Durable
You're busy, and while you understand the value of promoting your brand with customized products, you may think you don't have the time necessary to create something completely custom. In some instances, you may be right, but when it comes to customized reusable bags you can design the perfect bag for your brand in under 5 minutes! 
Customize Your Bag
You can easily design your very own customized reusable bags using our interactive form. Select your choices, hit the submit button and we will get back to you with a quote. This easy-to-follow form lays out all of the choices you need to make, to simplify the process of designing your customized reusable bags.
Size and Material
Start off by selecting the size and material. To make the process as easy as possible, we include a brief description of each material. If you want more depth information about the materials available we can help you understand your options and select the right material for your bags. Feel free to contact us.
Choose the Color and Finalize Your Customized Reusable Bags
We have a wide array of colors you can choose from when designing your bags. You can also select whatever add-ons you would like that will help customize your bag design and add value and function to your bags. Choose the size and material of the handles, add pockets and closure and more to create something unique that is useful for your customers.
Advantages of Going Reusable Now
Many brands are finding that handing out single-use plastic bags is bad for business. Customers are backing away from disposable plastic due to the environmental harm these materials cause. Promoting your brand with customized reusable bags positions your brand as part of the solution by avoiding single-use bags and giving your customers what they want.
All It Takes is 5 Minutes
We have been in the business of creating customized reusable bags for almost 30 years, so we have simplified and streamlined the process to make it as easy as possible. You can create something fully custom that is unique to your brand in under 5 minutes. Create your unique, fully customized reusable bags now HERE!