The BIGGEST Mistake You Are Making with Your Custom Reusable Bags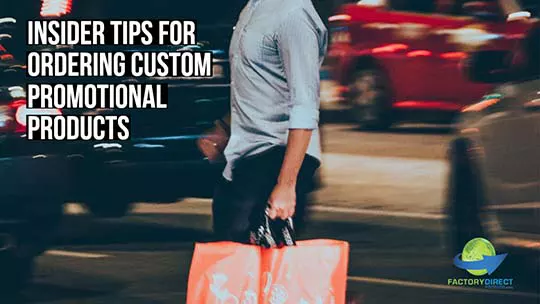 Insider Tips for Ordering Custom Reusable Bags
Custom reusable bags are proven to effectively promote your brand. While these promotional products can be an excellent marketing investment, knowing which pitfalls to avoid can make the entire process flow much easier; not to mention give you the best possible ROI. Find out what mistake to avoid when placing your order for custom reusable bags.
Understanding The Ins and Outs of Ordering Custom Reusable Bags
At Factory Direct Promos, we create customized reusable bags and promotional products. Customized can mean different things for different orders. We can create custom reusable bags using our in stock selection or we can fulfill bulk orders or custom designed bags.
In Stock Selection
We have a lineup of reusable bags that we keep in stock and ready to go. All you need to do is select the style of bag, the color and send us your artwork. Our production team can print your artwork on the in-stock bags and we can get them out to you. Ordering from our in-stock selection is ideal if you like the size, design and material of the bag as is, or if you need your order quickly. Printing your logo and artwork on the bag still takes time, but because we are printing on existing bags we can turn your order around much more quickly.
Why Place Custom and Bulk Orders?
For some of our customers, custom reusable bags means more than printing artwork on the front. Our custom and bulk services are ideal for customers who want to alter the design of an existing bag, design their very own bag or place an order for a large quantity of bags. We can swap out material, add pockets or zippers or snaps, include a headphone port or key ring or change the length of the handles. Whatever you want to do, we can make it happen.
We can support bulk orders if you need a large quantity for a huge event, or if you plan to hand out custom reusable bags for a long time. Ordering in bulk is a great way to land an amazing deal. Increasing the order quantity lowers the price per bag, so when you order in bulk you can get your bags for a great price.
Understanding the Logistics
Our workflow can accommodate custom and bulk orders, but these types of jobs generally require more time, since they require more production work. When placing an order for bulk or custom reusable bags, make sure to provide plenty of time to ensure you are able to have your bags by the desired date.
Plan Ahead
So what about that BIGGEST MISTAKE you are making with your custom reusable bags? Waiting too long to place your order. Why? Because this costs you money because you lack the time to place an overseas order. Still, we know that sometimes, despite your best efforts you may need custom reusable bags right away. In that instance, to get them in time, ordering in-stock bags is your best option.
If you want to get the best price, place a large order of several thousand for example, or if you want to alter the actual design of the bag, then you need to give yourself time. Once the design is finalized, we need a month to fulfill bulk or custom designed orders! So give yourself a good 60-90 day window.
Let's Get Started
Find out just how much custom reusable bags can help your brand by creating your very own custom reusable bags. If you have questions about the design process or more specific questions about turnaround contact Factory Direct Promos. Create your unique, fully customized reusable bags now.
Tagged