Making Recycling EASY for Multi-Family Tenants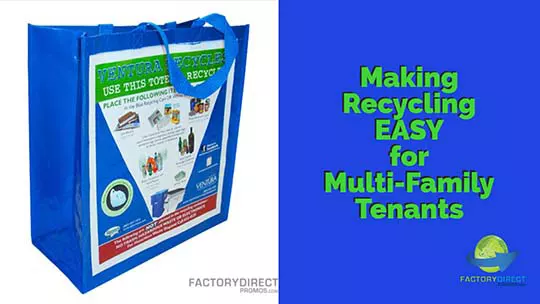 How Reusable Recycling Bags Solve The Multi-Family Recycling Problem
Recycling in apartments and other types of multi-unit dwellings has typically been hard, but not anymore. In a recent article for Waste Advantage Magazine, our very own Beth Wilkerson, outlined 5 Ways Reusable Recycling Bags Make Recycling Easy for Multi-Unit Tenants. Check out the article to learn more and find out exactly how our reusable recycling bags make recycling easy.
Identifying the Problem
Recycling in apartments is hard. Space is limited, tenants don't always know what items can be recycled or where to even bring their recyclables. The large bins that work so well for residents of single-family homes just don't work in apartments. However, reusable recycling bags are proving to be an effective solution for both tenants, landlords or property managers and waste management companies.
Space-Saving Bags
Perhaps the biggest complaint about the bins used in single-family home recycling programs when it comes to apartment dwellers is the bulky size. Without a garage or a conveniently located garage, bins are inconvenient. Bins are just too big to fit inside of most apartments. Reusable recycling bags provide a handy container to hold recyclables, without all of the unnecessary space. The bags can be folded when not needed, to take up barely any space. Even when in use, the bags still take up limited space.
Reusable recycling bags also feature handles, that allow the bags to be hung on a spare hook, a coat rack or even a doorknob. Getting the bags and the contents up off the floor helps to keep the home neat and tidy and make the best use of the space.
Simple Design
The compact bag design is great for rounding up and storing items for recycling, but this simple design is also handy when it comes to bringing recyclables to the common collection point. The long handles make it easy to carry the bag, or even slip it onto a shoulder, for hands-free carrying.
A low-profile handle on the bottom of the bag makes it easy to empty the contents of the bag into a collection bin. The tenant can simply slip their hand into the handle and invert the bag to dump all of the bottles and cans and more.
Built to Last
Reusable recycling bags feature a durable construction. Under normal wear and tear, these bags should work for a number of years, and deliver a great return on investment. The bags are green and eco-friendly themselves, given that they are made from recycled content. When the time comes that the bags do wear out, they can be recycled, too.
Are Reusable Recycling Bags Right for Your Property?
The space-saving, simple and durable design are just some of the benefits reusable recycling bags provide. Check out Beth's article in Waste Advantage Magazine to learn more about these bags and find out what other benefits they provide. Get in touch if you have questions, need a quote or want to see a sample of our reusable recycling bags!
Tagged