5 Eco-Friendly Promotional Products for Churches, Mosques, Synagogues, and Temples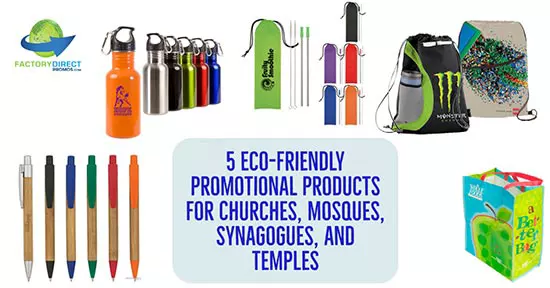 Support Your Community and Go Green
Community outreach is important for any organization. Your religious group can conduct outreach in your community with eco-friendly, customized reusable promotional products.
Eco-friendly promotional items are a great way to stay connected to members and support those in need and possibly impacted by single-use plastic bag bans.
Whether used as donated items or sold as part of fundraising efforts, reusable promotional products can be valuable items.
Here are 5 eco-friendly promotional products for your religious organization.
Eco-Friendly Is Important
Promotional items work by constantly reminding people about a group and their cause. The repetition of the message can be invaluable. This repetition is important, but the item itself also matters.
The best promotional items are useful things that people actually need and can put to good use.
Eco-friendly items matter because they are good for the planet and this reflects on your organization.
Recycled content or sustainable materials reduce the environmental impact of your organization by using materials that either already exists, or do not cause environmental harm.
Eco-friendly promotional items can also be disposed of in a responsible manner, meaning your group will not cause any environmental harm.
If you're not sure what promotional item is right for your church, mosque, synagogue, or temple then we can help.
Here Are 5 GREAT Promotional Items for Religious Organisations
1. Custom Drawstring Bags
Drawstring bags make it easy to carry items to school, work, or anyplace really. Our custom drawstring bags come in many different styles and feature an array of materials and printing methods in order to best relay your message while being a favorite with your parishioners.
2. Custom Grocery Bags
An increase in single-use plastic bag bans has created more demand for reusable grocery bags. Custom grocery bags fulfill a need and when you create your very own bags you make it easy for your members to take care of their shopping while also spreading your message.
3. Seed Paper
Seed paper is a versatile item that can be used for handouts, cards, and more.
Creating custom seed paper items makes it easy to get creative but also allows your members to engage with your organization. Give your members a beautiful experience by planting paper embedded with seeds and watching the plants grow.
4. Reusable Drinkware
Reusable drinkware is a big category with many different styles available.
From stainless steel water bottles, eco aluminum bottles, eco-friendly plastic bottles, eco-friendly mugs and tumblers, eco folding bottles, and even eco-friendly straws you are sure to find just the right item that will connect with your followers.
5. Eco-Promo Items
We also offer eco-friendly lanyards, eco-friendly pens, and eco-friendly notepads.
All of these items serve specific purposes and can be completely customized to remind your members about your organization and cause and just be a helpful reminder.
Order Your Way
We make it easy to create your very own eco-friendly promotional products by offering two ways to order.
Our in-stock items are assembled and ready to be imprinted with your custom artwork. In-stock ordering is a good option if you need a small quantity or need items right away.
We also offer custom or bulk ordering. In this case, items are made to order which allows for a much greater level of customization. Depending on the item, you can swap out the materials, select the color, and possibly alter the design in addition to having your custom artwork printed on the item.
Promotional items are a great way to connect with your followers and can keep your message front of mind while also spreading that message to a wider audience.
You know your followers better than anyone, so you can choose the right eco-friendly promotional item and we're here to help you design that item!
Shop our full line of eco-friendly promotional items and get your customized quote today.
Tagged