Opposition to Bag Ban Boiling in Anchorage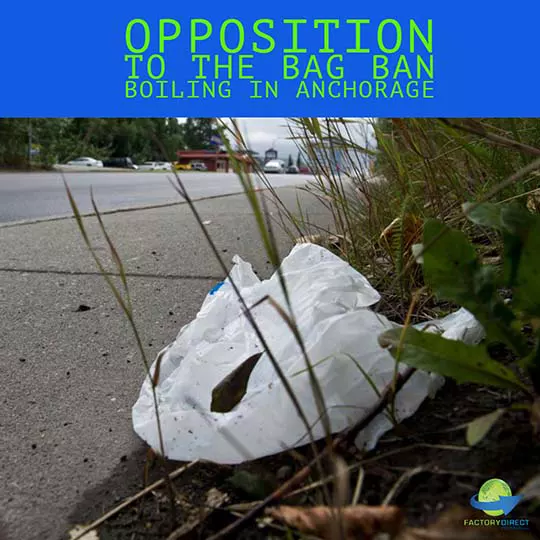 Grassroots Movement Opposed to Bag Ban Process
Just about everyone in Anchorage agrees single-use plastic bags are a problem and reusable bags are a solution. Plastic is bad for the planet and discarded bags are a major threat to wildlife and the natural beauty of Alaska. This past August, the Anchorage Assembly voted 9-2 to ban single-use plastic bags. The hope is that by banning disposable plastic bags all residents will make the switch to reusable bags, which do not carry the environmental harm of disposable bags. However, one resident is taking a stand and began circulating a petition to overturn the ban. 
Give the People What They Want
Anchorage resident, David Nees, supports recycling and he isn't opposed to the bag ban. He is opposed to how the ban become a law. Nees feels the people who will be impacted by the ban are the ones who should have made the decision, and not the city assembly.
In response to the bag ban, Ness has started a petition calling to overturn the measure. Nees has stated that if the measure had been placed on a ballot in the first place, and residents passed the bag ban, he would not have started the petition. To date, Nees has collected over 1,000 signatures. He needs a total of 10,000 by mid-January to achieve his goal.
Current Timeline for Plastic Bag Ban in Anchorage
Anchorage's single-use plastic bag ban was initially scheduled to begin on March 1, 2019. Several retailers have expressed concern about being unable to use up their remaining inventory before the March 1 start date. The Economic Development Committee is scheduled to review a proposal to delay the start date of the ban until September 15, 2019. This extra time would allow local retailers to use up any disposable plastic bags they have left.
Benefits of Going Reusable
Whenever Anchorage's bag ban becomes official, and if the ban becomes official pending the outcome of Nees' petition, there is one takeaway. Single-use plastic bags are bad for the planet. Residents do not need to wait for a ban to stop using disposable plastic bags. People can make the switch on their own and begin using reusable bags.
Let's Help Everyone Go Reusable Now
Reusable bags create a great customizable surface to promote your brand. One bag can deliver thousands of impressions and work tirelessly to increase awareness and recognition of your brand. Want to learn more? We're here to help.
We have been in the reusable bag business for almost 30 years. In that time we have earned a variety of distinctions, including GOTS, Fairtrade, ISO 9001-2015 and FEDEX. We're proud of the work our team has accomplished, but most importantly we're proud of our team's commitment to helping our clients and best serve the environment. We even created an interactive plastic bag ban map!
Sign up for our newsletter to stay in the loop regarding Anchorage's bag ban, learn more about the bag ban movement and find out when we offer eco specials!
Tagged