3 Ways to Green Your Business in 2019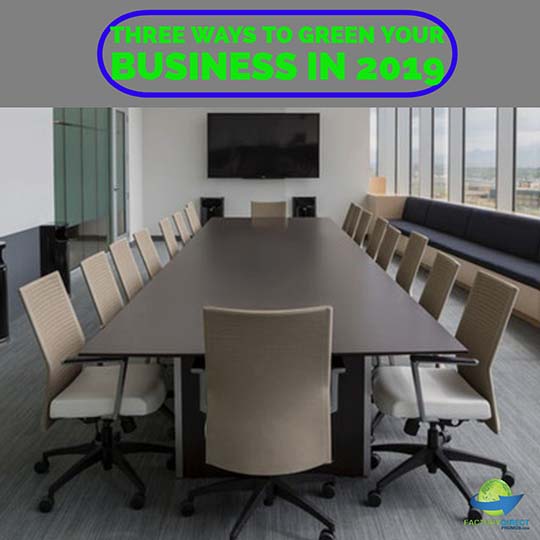 Start The New Year Off Green
New years are about new beginnings which makes 2019 the perfect time to implement some green practices into your business. From marketing with reusable bags, streamlining processes and more, find out how easy it can be to green your business in 2019. 
Why Go Green
The benefits of going green are many. Going green can potentially save time and money, while also giving employee morale a boost. Studies show up to 70 percent of customers like to work with businesses that do good, and may even be willing to pay more money to support like-minded businesses. Oftentimes, the nature of the social commitment does not matter as much as the act of doing good. Although, many consumers rally behind businesses that are green.
How to Go Green
Going green can cover a variety of issues. Each business is different and what it means for one business to go green can differ greatly from the green practices of another business.
1. Marketing with Customized Reusable Bags and Travel Mugs
Marketing is necessary to grow and reinforce your brand. Reusable promotional items are a great way to give your customers a handy promotional marketing item that will remind them of your brand. Another perk of reusable promotional gear is that it essentially turns your customers into brand ambassadors who promote your business.
Reusable bags are an effective promotional product that also aligns with your green goals. Reusable bags take the place of single-use, disposable bags, enabling your customers to use less plastic. Up the green ante, by selecting reusable bags made from recycled or sustainable materials, both of which are green options. However, your customers use your custom branded reusable bags they will use less plastic and promote your brand in the process.
2. Conserve Power
Keeping your electricity usage down can save money, but it is also a great way to go green. There are lots of ways to save power in the office without impacting working conditions or productivity. Swap out old light bulbs for energy efficient bulbs, and when replacing appliances and electronics, look for items that are Energy Star rated. Send out reminders in your company news and place handy eco-reminders around the office.
3. Look for Tax Incentives
Some states offer tax benefits for businesses that go green. Utilizing renewable energy, green technologies or green building practices may qualify your business for a tax break while also allowing your business to do right by the planet. Many of these green improvements will also save money in the form of reduced utility bills.
Go Green in 2019
We understand the value and importance of going green, and for almost 30 years we have been helping other businesses take their marketing green. During this time we have earned a variety of certifications, including GOTS, Fairtrade, ISO 9001-2015 and FEDEX, and all of these distinctions speak to our strong quality and social commitment.
Whether you have a small or large business or something in between, we are here to help and we can show you just how easy it is to take your marketing green in the new year. Sign up for our newsletter to learn more, stay up to date on other green news and never miss out on one of our green eco specials.
Tagged