Honolulu Plastic Bag Ban Finally Gets Real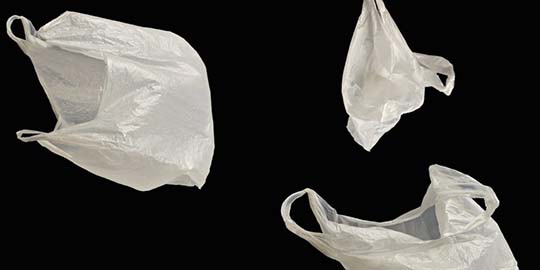 Law Amended to Effectively Ban Plastic Bags
Plastic bag bans are common in Hawaii. All of the counties that make up the archipelago have passed their own plastic bag bans, so the entire state is covered by a series of similar bans. Locals got behind the measure to ban bags in the city and county of Honolulu because they saw plastic bags as marring the natural beauty of their home.
Tourism is also such a big part of the local economy that many residents felt there was value to preserving the beauty and pristine conditions of the area. With plastic bag bans in place, the idea was that everyone would switch to reusable grocery bags. That's not exactly how things happened.
The Backstory on Honolulu's Plastic Bag Ban
The Honolulu plastic bag ban started out with the best of intentions on July 1, 2015, but many local businesses found a way around the law. The initial ban prohibited disposable, thin film plastic bags. Bags that were classified as reusable or compostable were allowed. Many local retailers switched to handing out thicker plastic bags and claiming they were reusable. It turns out these thicker bags were just as bad, if not worse, than the prohibited thin film plastic bags.
The thicker plastic bags were made from nonrenewable resources and were still ending up as litter or taking up space in the waste stream. While there were businesses and residents who adhered to the ban and used reusable grocery bags, the ban backfired by allowing the use of thicker plastic bags.
Honolulu's Plastic Bag Ban Going Forward
The law has been revamped to effectively ban all disposable plastic bags. Starting July 1, 2018 retailers will be required to charge up to a 15-cent fee per bag for each reusable, compostable plastic, or recyclable paper bag handed out.
The big change comes on January 1, 2020 when all plastic bags, including bags that are thicker than 2.25 mil and marketed as compostable, will be banned. The amended plastic bag ban is specific and makes it very clear that thicker film plastic bags will no longer be considered reusable.
The Fine Print of Honolulu's Ban
The updated plastic bag ban goes into detail about what exactly makes a bag reusable. Under the new version of the ban a reusable bag is defined as a bag with handles that is designed and manufactured with the intention to be used multiple times. Reusable bags are made from cloth, or washable fabric, or other durable material, such as plastic that is at least 3 mil thick. Durability is key to determining and defining what makes a bag reusable.
Make Your Business or Organization Part of the Solution
If you want to learn more about the bag ban movement check out our plastic bag ban map! This interactive map tracks plastic bag bans and fees, and even the efforts that fail to go through.
Regardless of plastic bag bans in your state, your organization can be a part of the solution. Market your brand in a fun, eco-friendly, and effective way while helping your customers and prospects ditch plastic bags! Contact Factory Direct Promos today and ask for a quote on one of our most popular reusable bags.
Tagged