NY Bag Ban Can Benefit New York Retailers! Here's How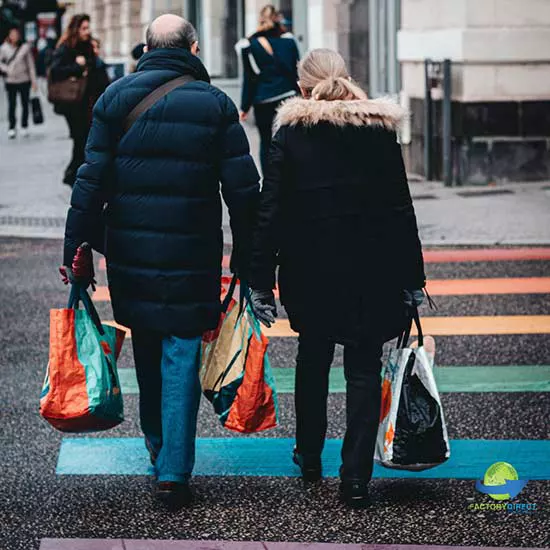 Go Green and Grow Your Business
On March 1, 2020, the New York bag ban will go into action. New York joins the growing list of cities, counties, states, and even countries that have banned single-use plastic bags. You can see the full impact of the bag ban movement with this map of all the plastic bag bans in the U.S. Bag bans are good for the environment, but they are also good for businesses. If you are a retailer in New York then here is how your business can benefit from the NY bag ban.
Recycling Efforts
New York state identified the risks associated with single-use plastic bags many years before the NY bag ban was passed. Laws were passed requiring different retail establishments that met various criteria to accept thin-film plastic bags for recycling. While these efforts were well-intended, they failed to deliver significant results. When recycling failed to address the problems caused by single-use plastic bags, further action was taken in the form of the New York bag ban.
Benefits of Bag Bans
Shoppers will always need a way to carry items home from the grocery store. When single-use plastic bags are banned, more durable, reusable shopping bags are a good substitute. Reusable shopping bags provide a lot of benefits, including:
– Reusable bags with logos printed on them are kept for an average of 11 months.
– One promotional bag can deliver 3,300 impressions.
– The cost per impression of a promotional bag that costs $5 works out to less than 2/10 of a cent.
– 50% of consumers report they are more likely to do business with a business that gave them a promotional bag.
What You Can Do
As a retailer, you can promote your business while also making it easy for your customers to adjust to the New York bag ban. There are lots of ways you can design and distribute your custom bags to help your customers while also helping to promote your business.
1. Get Reusable Bags in Your Shoppers Hands
Create your own reusable bags to sell in your store. Shoppers in NY will need to stock up on reusable bags because of the bag ban in New York. This is a GREAT chance to make your shoppers walking billboards and brand advocates for your brand.
2. Get Creative
You want to create bags that will become your shopper's favorites. Your reusable bags do not have to be boring. You can create anything you can dream up including fully custom, full-color reusable bags. Create a different bag to offer for each season. You can even create promotional bags for special offers or events.
3. Share the News with Shoppers
Post about the bag ban on social media and help remind your shoppers that they need to start bringing their own reusable bags to shop. You can even share this video or other bag waste reduction law outreach materials from the New York State Department of Environmental Conservation. Post signage in the parking lot of your establishment and near the entrance reminding customers to bring their reusable bags.
4. Lend a Helping Hand
Donate your custom reusable bags to your community in-need. Contact local shelters and offer to donate and then share the good news on social media, contact your local media with the news, and send out a press release.
5. Share Your Bags with Your Marketing Team
Don't forget that you can utilize your reusable bags at tradeshows and other events. Custom reusable bags are practical for all sorts of events. Your customers can also repurpose bags they receive at a tradeshow for grocery bags.
Here to Help
New York retailers have been reaching out to learn more about how to create custom reusable shopping bags. We have been doing everything we can to answer questions and help people understand just how simple the entire process of creating custom reusable bags really is when you work with us. We can create ANY kind of reusable bag. Whatever you need and whatever you dream up, we can make happen. We can also help fulfill your Kraft paper bag needs.
We are ISO certified, and our bags are certified reusable, which means our reusable bags are designed and constructed to last, so they will represent your brand while providing dependable results for your customers. We have been in business for over 10 years and are based in the U.S. We work directly with our factory in China, which enables us to offer a high level of customization while also reducing turnaround. You will get custom bags quickly and easily for your business in New York or any place.
Shop our certified reusable and paper bags now and get the help you are looking for to create the perfect custom reusable bags for your retail outlet!
Tagged