Need Reusable Bags in Bulk? We've Got Your Back!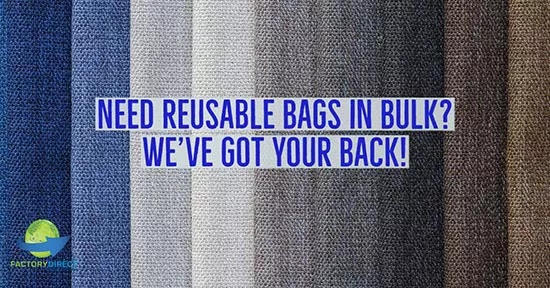 Go Big with Reusable Bags in Bulk, Grow Your Brand and SAVE BIG!
Custom reusable bags are highly effective at promoting your business and they deliver an amazing return on investment.
Reusable bags are items your customers will use on a regular basis. This routine use means your customers will become very familiar with your brand and even help promote your brand to their friends, family, and anyone they happen to encounter while using your bag.
Purchasing reusable bags in bulk can secure an even better price and make the most of your marketing budget.
Here's why you should consider purchasing reusable bags in bulk and what we can do to help keep your cost down!
Bulk Pricing
Bulk pricing makes it possible to secure a low unit price per bag.
Through increasing the quantity, the material cost will increase, but the work cost will remain relatively constant. Since these expenses are spread out across a larger quantity of reusable bags, this brings the price per bag down. This means you can secure a better price per bag by purchasing a large quantity.
If you're unsure just how many bags you'll need, we suggest tallying up all of the bags you'll think you need. Also, think about all of the ways you may be able to use custom reusable bags. Some of the ways reusable bags can be used to grow your business include:
Feature the bags as giveaways or gifts for attendees of in-person or virtual events.
Replacing existing packaging with reusable bags when possible.
Use the bags as gifts for employees.
Sell the bags in your brick and mortar or online store.
Donate the bags to charities or organizations that help the less fortunate.
Use the bags as gift wrap for holiday gifts, welcome kits, or any other type of gift.
Ordering plenty of reusable bags upfront means you will not run out when you need them and also allows you to secure a better price per bag.
Direct From the Factory
There are two ways you can order with us. Our in-stock bags are assembled and ready to go. You just need to send us your artwork and we can customize the existing bags. This is ideal if you need your bags right away or if you need a small quantity, as low as 250 bags.
We also provide custom and bulk ordering. This is possible because we work directly with our factory. This direct working relationship not only allows for a greater level of customization but also enables us to produce large orders up to the millions.
We can quickly and efficiently produce your bags, so you can start promoting your business.
Quality Reusable Bags
We take great pride in the reusable bags we produce. Our reusable bags are designed and constructed to be safe and deliver dependable results. The quality and safety of our reusable bags are documented and speaks to our commitment to our customers and the planet.
We also offer certified bags. These bags have been designed to the exact specifications laid out by CalRecycle and are certified as meeting these standards.
Certified bags provide extra confidence.
Your customer reusable bags represent your brand and are an extension of your brand.
Quality bags that dependably hold up speak to your brand's commitment to your customers.
Place Your Bulk Order Today
We know how to make the process of creating custom reusable bags in bulk easy and we can help you promote your brand with eco-friendly bags that represent your business.
We have helped countless customers, including American Express, Bank of America, Carnival Cruise Lines, Pepsi, The Home Depot, Whole Foods, and more. We want to do this for you, too.
Shop our full line of reusable bags in bulk and get your customized quote today!
Tagged