Share The Love This Valentine's Day and #GoReusableNow with Eco-Friendly Bags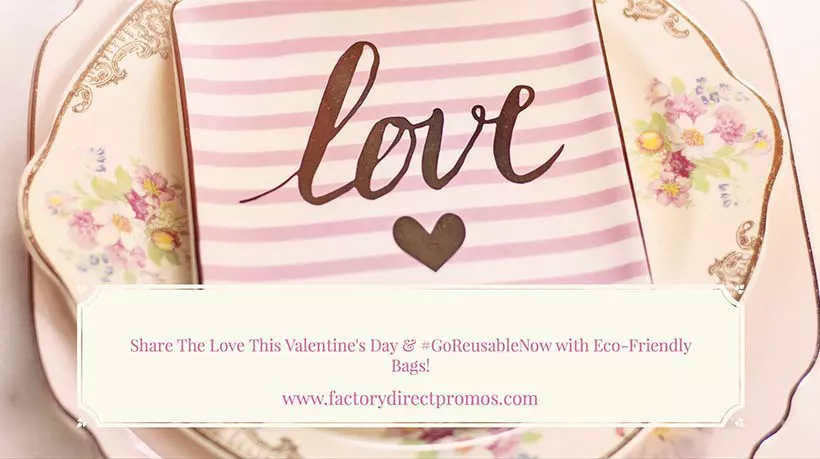 Eco-Friendly Bags Promote Your Brand and Your Green Goals
Today is about love and appreciation for that special someone in your life, but what about showing some love and appreciation for the planet? Your company can do just that when you promote your brand with eco-friendly bags.
Eco-Friendly Bags Help the Planet
A couple of factors make reusable bags eco-friendly. Reusable bags eliminate the need and use of single-use bags.
To understand the value in reducing disposable plastic bags you need to understand all of the harm and damage plastic bags cause. Eco-friendly bags stop the cycle of environmental harm and misuse of resources.
When reusable bags are made from recycled or sustainable materials, they are better for the planet than single-use plastic bags. By finding a new use for existing plastic materials, or utilizing sustainable, plant-based fabrics, like bamboo, cotton and jute, reusable bags can show the planet some love well beyond Valentine's Day.
Customize Eco-Friendly Bags for Your Brand
Reusable promotional tools give brands lots of exposure. Something like a reusable bag can last for several years, even more depending on how well it is cared for, and this means the customized reusable eco-friendly bags you design today, may still be promoting your brand years from now.
When you customize your eco-friendly bags, they will represent your brand and keep your message relevant with your customers, but also with everyone your customers come into contact with while carrying your branded bag.
Eco-friendly bags offer constant and effective marketing with a significant reach, while helping to protect the planet and her people.
Share the Reusable Love
Share the love today and share our post or image on social media and be sure to tag us! Happy Valentine's Day and remember to #GoReusableNow with your marketing.
Tagged