Are Grocery Tote Bags Dangerous to Your Health?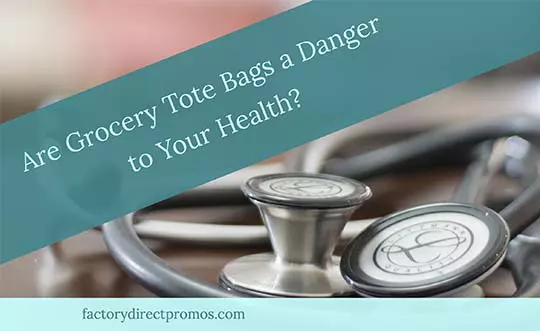 Is Concern Over Health Implications of Reusable Bags Founded?
Custom reusable bags are a win for the environment, consumers and your business. But for a few years, there has been a lot of talk in the media about just how unhealthy grocery tote bags are to use. Using scare tactics, some members of the media, backed by the American Chemistry Council, an industry trade organization that supports disposable plastic bag manufacturers, has propagated this myth. But a myth it is, as confirmed by Politifact Texas.
Accusations Made at Panel Discussion
The health implications of using reusable grocery bags came up at a SXSW Eco panel discussion in October of 2016. James Quintero, director of the Center for Local Governance at the Austin-based Texas Public Policy Foundation, stated that there was an increase in salmonella and other related illnesses in San Francisco after the passage of their disposable plastic bag ban.
Study Cited Claims Connection
A spokesperson for the Texas Public Policy Foundation cited a study conducted by two law professors, "Grocery Bag Bans and Food Borne Illness." The researchers evaluated hospital data relating to instances of e.coli during the time a single-use plastic bag ban was rolled out in San Francisco. The study found an increase in cases of e. coli and they believe this is related to the bag ban.
No Clear Indication of Cause and Effect
The research does not show a clear connection between people getting sick and those same people using reusable grocery totes. There was a spike in illness, and a disposable plastic bag ban was passed, but those two facts appear to have happened independent of one another. For instance, patients were not asked if they used reusable grocery tote bags.
No bags were tested for e.coli. It is unknown how the people in the study became ill. It is equally possible they all ate at the same restaurant and that is how they contracted the illness. Without more data it is not possible to know the cause of the illness. The professors who authored the study assumed there was a link, but they did not find a link.
Clean Your Grocery Tote Bags
It is important to clean any item that comes into contact with food. Just like you clean dishes and countertops, you should also clean reusable bags. If you are wondering how to clean reusable bags, some grocery tote bags can go in a washing machine and dryer. When in doubt it is best to wash by hand and line dry.
Tips to Maintain Your Grocery Tote Bags
To further reduce the risk of cross contamination, you can dedicate your grocery tote bags to specific uses. For instance, only place meat in one bag, dairy in another, produce in another and so forth. You can label your bags to help you keep them straight when loading them up at the store. This way if a bag were to become contaminated bacteria from raw meat would not spread to a piece of fruit, like an apple.
Put an End to the Myth and Go Green
The article from Politifact Texas does an excellent job of explaining why the study conducted by the two law professors does not hold up. When people cite this study they are continuing to promote this myth as truth. Grocery tote bags have not been proven to cause deaths or illness. It is unfortunate that such a myth has been propagated.
We are proud to provide retailers and marketers with custom reusable bags and we have been doing it for over 20 years. Please feel free to fill out a quote request or contact Factory Direct Promos today to get started promoting your business and helping consumers live greener.
Tagged