How Lila The Dog Is Cleaning Up Our Oceans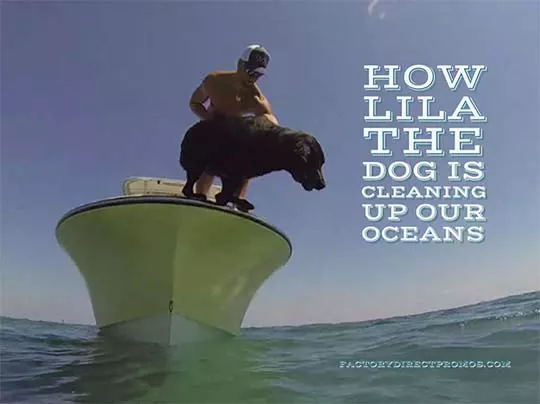 The Environment Has a New Best Friend Reminding People to Use Eco-Friendly Tote Bags
Just as we are preparing for a possible hit of Hurricane Irma, we find out that one of our South Florida furry, four-legged neighbors is helping us in our quest to rid the oceans of plastic trash and help people use eco-friendly tote bags.
Lila, previously known as the Lobster Diving Dog, has taken on a new challenge and is now diving for plastic. It is all part of her owner, Alex Schulze's 4 Ocean project, and we could not be more excited to share efforts that bring awareness to plastic and in turn, promote the use of eco-friendly tote bags.
4 Ocean Working to Clean Up the Ocean
From beaches and waterways to offshore/intercoastal clean up, 4 Ocean is trying to get rid of plastic litter and trash that is in our oceans and on our shorelines. They organize beach cleanups and partner with other cleanup organizations to maximize efforts. Volunteers are recruited to lend a hand and remove trash and their efforts help remind folks to use eco-friendly tote bags.
4 Ocean launched on January 1, 2017 and to date they have removed 75,000 pounds of garbage, most of it plastic, from the ocean and coastal areas. To help offset operational expenses they sell bracelets made from recycled materials. For each bracelet sold one pound of trash is removed from the ocean. You can signup to volunteer for cleanup efforts in your area or purchase a bracelet through their website.

Lila Pitches In
The Internet first learned about Lila after video of her diving for lobsters was posted. Lila's owner, Alex, worked with her to teach her how to dive. In order to do this she had to learn how to hold her breath and swim with her back legs.
Once she mastered diving, Lila was taught how to retrieve lobsters. When her owner began cleaning up beaches with 4 Ocean it made sense for Lila to pitch in and put her skills to good use. Lila began removing discarded plastic bottles, bags, cartons and other pieces of litter.
Promoting Sustainability Through Cleanup and Eco-Friendly Tote Bags
Clean up is a major part of the work done by 4 Ocean. They also promote sustainability and using recycled materials. Eco-friendly tote bags reduce the need and use of single-use plastic bags, which unfortunately are a common item retrieved by 4 Ocean.
Working Together to Help the Planet
We hope Lila, the 4 Ocean team and all of those in Irma's path stay safe. We certainly are keeping those in Texas in our thoughts. Depending on the Irma's path, we may not be open Monday. Don't worry though, we will still be up and running behind the scenes working for our customers to fill orders.
Please feel free to browse our site, fill out a quote request or contact Factory Direct Promos to create the perfect eco-friendly tote bags for retail and marketing use.