7 Stats That Show the Value of Trade Show Bags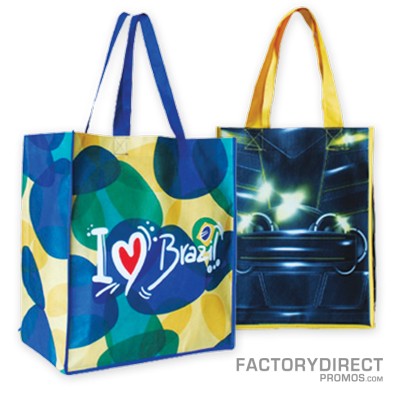 Find out Why Trade Show Bags Are the Perfect Promotional Giveaway!
The value of having a presence at trade shows and meeting with both existing and potential customers face-to-face, can help take your brand to the next level. You can gain insights on potential customers and spread your brand's message with one-on-one interactions and the use of promotional products.
Continuing to build these relationships by maintaining a presence at trade shows is simplified when you put trade show bags to work. They will draw prospects into your booth during the event and continue to provide value for your brand long after the consumer has left the trade show floor.
Below, we explore 7 statistics that exhibit the effectiveness of trade show bags.
50% of US consumers own a trade show bag.

The amount of trade show bags that remain in circulation puts their potential value on full display. Creating an eco-friendly reusable bag that can carry your brand's message, makes for a strong promotional product because consumers keep them and continue to use them.

Source: 2016 ASI Impressions Study

Trade show bags are the 3rd most popular promotional item.

At 7.67% of the market (behind wearables and writing instruments), trade show bags have carved out their spot in the promotional product space. On the trade show floor, wearables, writing instruments, and other promotional products could be carried around in their brand-new trade show bag. Before they even leave the floor, they will recognize their usefulness.

Source: 2017 Promotional Products Fact Sheet

Trade show bags create more than 5,700 impressions a year.

Wearable promotional items and writing instruments might hold a larger market share, but the practicality and durability of trade show bags make them the most useful for gaining impressions. A well-made bag can become part of a consumer's routine. As a result, impressions continue to pile up.

Source: 2016 ASI Impressions Study

Trade show bags can gain 1,000 impressions for every $1 spent.

It's all about the impressions, and trade show bags produce results. Reusable bags are starting to become more prominent as plastic bag bans are sweeping the nation. Consumers will willingly use your branded trade show bag if it provides them with enough value in their day-to-day life. From there, the impressions will start to pile up.

Promotional bags are kept for an average of 7 months.

The amount of time that these bags are kept is what makes the high volume of impressions possible. Not only do 50% of US consumers own a trade show bag, but they stick around. As a result, trade show bags are effective in promoting your brand's message.

Source: 2016 ASI Impressions Study

87% of consumers say they keep trade show bags because they are useful.

Promotional products are only as valuable to your brand as they are to the consumer. The more useful, the more valuable. The market for reusable bag options is growing as consumers are leaving plastic bags behind. A branded trade show bag can fill that void for any consumer you come across.

Source: 2016 ASI Impressions Study

Nearly 7 in 10 brands consider promotional products "mostly" or "always" effective in achieving marketing goals.

Promotional products have proven themselves to be cost effective and valuable. However, it's important to remember that promotional products that can be put to use are the most effective. That's why trade show bags have experienced growing success and continue to fill the void that plastic bags are leaving behind.

Source: 2017 Promotional Products Fact Sheet
The Bottom Line
Producing a unique experience at trade shows allows for more opportunities in the future. With trade show bags, your company is guaranteeing that the message will continue to spread to the outside world. There's a lot of value in gaining the attention of a customer and building on that with each use they get from your trade show bag.
Contact Factory Direct Promos today to learn more about trade show bags and other promotional products we offer that can impress your audience at the next trade show.
Tagged