5 Tips to Promote Can't-Miss In-Person or Virtual Launches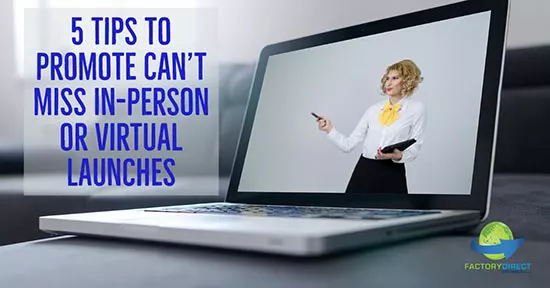 Learn How to Drive Attendance for Your Launch Event
Launches whether in-person and virtual, are only effective if people show up. You need to make sure people are there to hear and connect with your message and get excited about the new products or services you are introducing.
Help drive attendance for your next launch with these handy tips.
All of this info comes to us from our friends at Splash, who specializes in effective event marketing.
Event Marketing Made Easy
A lot goes into planning and implementing an effective launch. Here are some tips that can help guide you through the planning and ensure your event is a hit.
1. Build Excitement
Provide sneak peeks to help get people interested. Don't be afraid to tell your guests what makes this launch so exciting and what they can expect.
Although, try to hold back some information, so attendees will have something to look forward to during the launch.
2. Showcase a Demo
There is always a lot of excitement around seeing something for the first time and people remember things better when they can see the actual product or service at the center of the launch.
Make sure you have a demo ready to go so your guests can see just what all the fuss is about.
3. Bring in the Pros
Make sure you have a balance of team members from different departments in attendance. This way there will be someone there who can answer any questions that may come up.
4. Have Backups Ready to Go
Despite your best efforts, things may not go according to plan. Be prepared for the unexpected and have a backup plan ready to go just in case.
If technical difficulties arise, a video can take the place of an interactive demo. It may not be as effective as the initial plan, but it will get the job done and maintain consumer confidence in your brand.
5. Stay on Point
Create a theme and stick to it. A theme will make the entire event feel cohesive and show your guests that you put time into organizing and executing the entire launch.
The theme should be apparent and accurately represented in everything from your invitations, press releases, social media posts, and basically everything customer-facing, including your marketing items.
A cohesive theme can unify your attendees in-person or virtually with eco-friendly promotional items like reusable bags.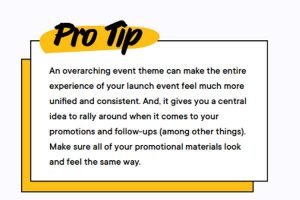 Eco-friendly promotional products matter because it allows your brand and your customers to minimize your impacts on the planet.
Eco-friendly reusable items reduce trash and litter and can effectively spread your branding message. Your customers will essentially become walking billboards and promote your new product or service to a wider audience all while providing a great ROI before, during, and after your launch.
What's more, according to ASI (American Advertising Institute) people are more likely to do business with a brand that gives them an eco-friendly promotional product.
We Can Help
We make it easy to create a great gift bag of logoed eco-friendly promotional items that can be used in any number of ways.
We can even create a custom bag that is just the right fit for your newest product, made to your specifications, complete with the highest-quality image of your product in a full-color custom reusable bag.
How beautiful would your new product look in full-color?
We recently wrote a post about 5 eco-friendly promotional gifts for virtual events that make a statement IRL (in real life). This post provides a lot of great information about the different products available and how these promotional items can be used to ensure your guests remember your launch.
Getting Started
We have been helping our customers create custom reusable promotional products for just over 10 years. We have worked with some truly amazing clients, including American Express, Bank of America, Carnival Cruise Lines, Pepsi, The Home Depot, Whole Foods, and more.
During this time we have earned several ISO certifications and we've learned how to make the process easy and even fun. In today's workday, that really matters.
We also offer two ways of ordering, in-stock and custom/bulk, to best fit your needs.
Shop now for eco-friendly promotional gifts to complement your product launch!
Tagged