Dreaming of Summer? 6 Ways Reusable Bags Heat Up Your Marketing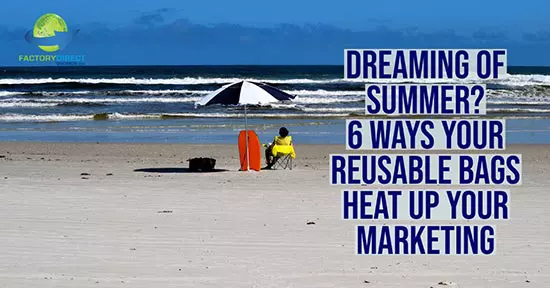 Fun in the Sun with Reusable Bags
There is a chill in the air throughout most of the country now, but summer will be here in no time. With the warm weather comes plenty of ways to put custom reusable bags to work for your brand. Reusable bags make great marketing sense and can provide a great ROI.
Find out all of the ways your customers can benefit from reusable bags this summer.
1. Beach Bag
A day at the beach often requires a lot of gear from towels to sunblock, a good book, and more. A custom reusable tote bag makes it easy for your customers to round up and carry everything they need for a day of fun at the beach.
2. Gym or Workout Bag
Make it easy for your customers to bring everything they need for their workout. Reusable bags are great for bringing a change of clothes to the gym. Or if your customers like to work out in a park they can use your custom reusable bag to carry free weights, a jump rope, and anything else they need to work on their fitness.
3. Summer School
Summer school is definitely a bummer, but a new bag can make it easy for students to carry everything they need so they're prepared for their day.
4. Picnics
Picnics are a great way to enjoy the outdoors and have fun with friends and family. A custom reusable bag can be used to carry frisbees, a football, and other gear, or hotdog rolls, snacks, and other food items.
5. Shopping
Custom reusable bags are commonly used as grocery bags and for good reason. They eliminate the need and use of disposable plastic bags and make it easy for your customers to carry their purchases home.
6. Swag Bags for Cruise Lines and Hospitality Brands
Your custom reusable bags can be customized with local history, a map of the area or facility, an itinerary, contact info, and more. Reusable bags can be handy during an event or trip but they are also a souvenir that can continue to be used (and remind your customers about your brand) for a long time to come.
How Reusable Bags Can Help Your Brand
Reusable bags are a great way to connect with your customers. As your customers use your branded bag they will think about your business. According to Advertising Specialty Institute (ASI) research, consumers are more likely to do business with a brand that has given them a promo product like a reusable bag.
Research also shows customers are more likely to do business with brands that have a commitment to going green. Reusable bags are eco-friendly because they reduce the need and use of single-use plastic bags and reduce the damaging effects of disposable plastic.
Easy to Order
We have been helping our customers create custom reusable bags to promote their brands and help the planet for over 10 years. During this time, we have earned several ISO certifications and we've also learned how to streamline the process to make it easy and best fit our customers' needs.
Two ways to order means you have the flexibility to choose what works best for your business. Our in-stock bags are already assembled. You just need to send us your artwork and we can print your logo on the bags to customize the look. This is ideal if you need a small quantity or if you need your bags right away.
We also offer custom or bulk ordering which means your custom reusable bags will be made to order. This allows for a much greater level of customization. You can select the material, swap out the color of the gussets, adjust the length of the handles, add pockets, or more to make the bags be exactly what you want.
Our custom and bulk ordering is a better fit if you want to customize the design of your reusable bags or if you need a very high quantity.
Contact us and ask about our latest eco-special or shop our full line of reusable bags now!
Tagged