Brookline Bans Disposable Plastic Bags and Styrofoam Food Containers
Law Will Prevent Some Retailers from Distributing Banned Items in 2013
Beginning in December 2013 plastic shopping bags will no longer be allowed in Brookline, Massachusetts, a Boston suburb of just over 57,000 people. About 73% of the town meeting members voted in favor of the ban that would prevent supermarkets, some pharmacies, and other larger retail stores from handing out disposable polyethylene bags. Plastic bags that are compostable and marine-degradable will still be allowed since they do not pose a risk to the environment and animals that call the area home. Paper bags are not impacted by the ban. In addition to the plastic bag ban, the town also approved a ban on Styrofoam food containers that is set to take effect at the same time as the bag ban.
Talk of banning disposable bags has been picking up momentum in the Boston area for years. Nearby Newton is contemplating a disposable shopping bag ban of their own, Nantucket was ahead of its time when it passed a ban over 20 years ago, and there is even talk of a state-wide ban.
Residents Have Mixed Feelings Concerning the Ban
Many folks agree the ban is the right decision, but there have also been plenty of people expressing concern. Some local politicians have reported negative feedback and residents claiming they will no longer shop in Brookline because of the ban, but overall the criticisms are few and far between. Disposable plastic shopping bags are extremely popular when it comes to picking up after pets and many people are concerned about how the bag ban will impact cleaning up pet waste.
Brookline has a full year to prepare businesses and shoppers alike for the ban. The Department of Public Health is planning to meet with local businesses to discuss the ins and outs of the bans and acceptable substitute materials. Reusable shopping bags are a clear replacement for plastic bags, but many restaurants need to find alternatives to take out food containers and disposable coffee cups.
Plans Being Laid to Make the Ban a Success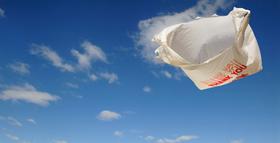 Alan Balasm, the Department of Public Health director has requested additional help in the form of a part-time employee to help get the word out and make sure everyone is ready when the bans launch at the end of 2013. Taking the time now to prep for the bans is a positive sign that both bans will be a success. Local businesses are going to be the front line of the ban and the success of the ban will hinge on how well cashiers and other staff members understand and uphold the law.
It was great to see Brookline pass the plastic bag ban, but it is even better to see the people rally and support one another in the year leading up to the ban.