What Are The Benefits of Reusable Shopping Bags?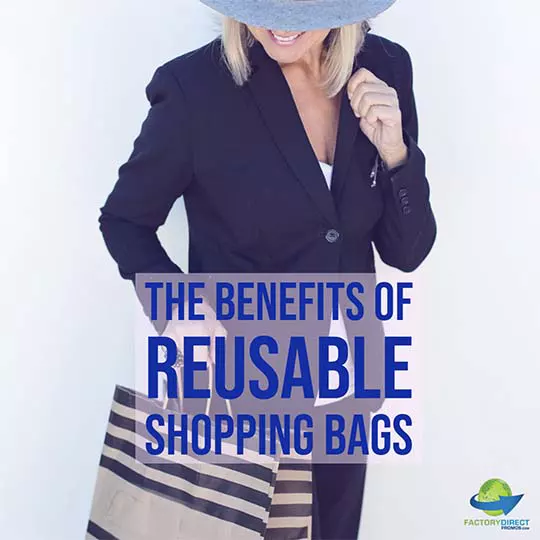 Understanding How Reusable Shopping Bags Can Help Us All
You have probably heard that reusable shopping bags are good for the planet and make great promotional products. Reusable bags have a lot to offer both for the people who use them day in and day out and the brands that customize them for use as promotional products. If you have wondered what are the benefits of reusable shopping bags, we have the answers.
1. Convenience
Reusable shopping bags fulfill a need. Shoppers need a way to carry groceries and other purchases home from the store, and reusable shopping bags can easily serve that purpose. In the 1980s, stores began giving customers single-use plastic bags to pack up and carry their purchases. These lightweight bags proved to be very convenient, but they set off a variety of environmental issues.
Concern over the negative environmental impact of single-use plastic bags has led to an increased demand for reusable shopping bags. Reusable shopping bags make it easy for shoppers to carry items home, without any of the negative impacts of single-use plastic bags.
2. Less Trash and Litter
Reusable shopping bags are responsible for decreases in the amount of trash and litter. The durable, reusable nature of these bags means shoppers use them again and again. By comparison, single-use plastic bags are very likely to end up in landfills or as litter. Plastic does not break down, so when it is in a landfill it is there to stay. Plastic litter poses a danger to animals and their habitats while also creating an ugly mess to look at. Plastic litter can also clog drainage systems and cause flooding, leading to widespread and damaging floods and messes that can be expensive to fix and clean up.
Reusable shopping bags reduce the demand and use of single-use plastic bags, which in turn reduces the negative environmental impacts of plastic bags.
3. Better Use of Resources
Reusable shopping bags are built to hold up under regular use. All of our reusable shopping bags are made from recycled or sustainable materials which are eco-friendly. Responsibly using these materials reduces the environmental impact of the bags and makes it easy to recycle these bags when the time comes.
Perhaps one of the more frustrating aspects of the mess caused by single-use plastic bags is that is should be avoidable. Single-use plastic bags are recyclable, but recycling rates are extremely low. Since these resources are very likely to end up in landfills or as litter, these resources will not be recaptured and repurposed into new and useful materials.
4. Prime Position
Reusable shopping bags can be customized with your branding information to make a statement and spread the word about your brand. The bags will serve as a reminder of your brand to your clients every time they use your reusable shopping bags. As our clients use the bags they will also put your branding info on display. Other shoppers and store employees will see these branded reusable bags and think about your brand.
Custom reusable shopping bags also send the message that your brand is striving to make positive green changes by helping clients reduce the use of single-use plastic bags. Many consumers like to work with brands that take a stand on green issues or are working to make a difference. These bags can help further endear your brand with your customers.
See How Your Brand Benefits
Reusable shopping bags cause a lot of good in terms of reducing trash and litter and making the best use of recycled and sustainable materials. These bags can also help promote your brand in a very visible way. We have been in the business of helping the planet by assisting our customers to create custom reusable bags for almost 30 years. During that time we have earned several distinctions, including GOTS, Fairtrade, ISO 9001-2015, and FEDEX.
If you want to see how your brand can benefit from custom reusable shopping bags, contact us!
Tagged