Plastic Bag Ban Effectiveness Explained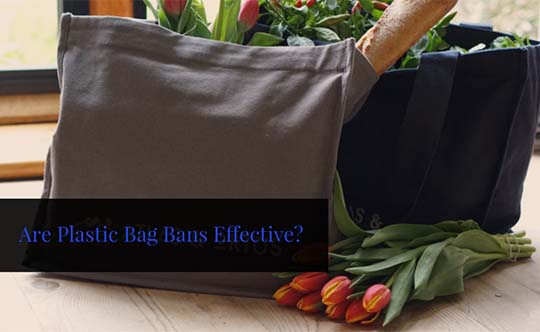 Understanding The Effectiveness of Bag Bans
Plastic bag ban effectiveness continues to be a common question as the bag ban movement grows. Bans have become widespread as more cities, counties and even states pass their own single-use plastic bag bans. For each ban that is passed, there are a bunch more in the works, making this movement even larger than just the areas with bans in place.
Bag bans are a change and they require shoppers to form new habits. This adjustment can be a challenge and oftentimes out of frustration, people will question if bag bans are really worth. While a lot of people believe in and support bag bans, others continue to question if these measures are effective. We decided to get to the bottom of whether or not plastic bag bans are effective.
Impact of Bag Bans
The ultimate goal of single-use plastic bag bans is to minimize or eliminate the impact of plastic trash and litter and to make better use of resources. That is the objective when determining the effectiveness of plastic bag bans.
1. Less Trash
Single-use plastic bags are recyclable, but they are seldom recycled. Most recycling facilities do not accept the bags so it's difficult for most consumers to drop off their bags for recycling. Most of the single-use plastic bags handed out and up in landfills. Plastic is not biodegradable, so when they end up in a landfill they are there to stay. Since plastic bags are so thin and lightweight, it may not seem like a big deal for them to end up in landfills, but when there are hundreds of thousands of single-use plastic bags in a landfill they really add up and can take up a lot of space.
Plastic bag bans mean there is less trash and keep single-use bags out of landfills.
2. Less Litter
On a windy day, any loose plastic bags can easily be blown away. So bags in a landfill can likely end up as litter. This litter is an eyesore, but it can also clog drainage systems or pose a threat to animals and their habitats. Many municipalities invest significant time and money to clean up litter, so reducing litter works out to a cost savings.
3. Better Use of Resouces
Since single-use plastic bags have such a low recycling rate that in order to make more, virgin materials are required. This is a misuse of resources. By banning single-use plastic bags, additional resources can be put to better use.
4. Larger Impact
Plastic bag bans have led to a variety of other items being banned, as well. Single-use paper bags, styrofoam, and straws have been targeted with bans or regulation in various areas. This means there are less trash and litter beyond just what was caused by plastic bags. All of this has pushed for increased use of reusable products.
Stay Connect
Plastic is bad for the planet and single-use plastic bag bans are effective at reducing plastic trash. Learn more about the bag ban movement by reviewing our plastic bag ban map. Stay up to date about bans, eco specials and find out how your brand can help your customers go green and use less plastic by signing up for our newsletter.
Tagged