The Best Reusable Shopping Bags at Wholesale Pricing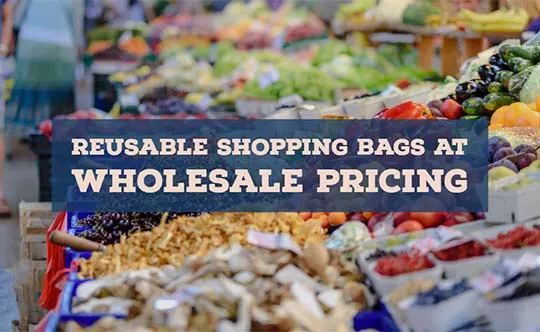 Make the Most of Your Budget
Custom reusable bags are a cost-effective and highly visible way to grow your brand. As single-use plastic bag bans become increasingly common and more consumers are choosing to use less single-use plastic in favor of reusable products, reusable bags are becoming even more in demand. Wholesale pricing makes reusable shopping bags an even better marketing choice.
Dependable Partner
We work directly with our factory and we have done so for almost 30 years. This enables us to keep costs down. There are no middlemen and markups. We save money and we share these cost savings with our customers, allowing you to enjoy wholesale pricing. The ability to purchase customized reusable shopping bags for a great price means you can secure a great return on your investment.
Our process also saves time. You can select from any of our in-stock products for a quick turnaround on your order. Despite your best efforts, sometimes you need your products right away, and this option makes that possible. The turnaround is still rather quick when placing a more customized order with our factory. We are able to save time where possible, ensuring you will have your completed order as soon as possible.
Custom Creations
This direct relationship with our factory also enables us to offer a high level of customization. We can print your branding message on the reusable bag of your choice, but we can also alter the design of the bag to fit your vision. You can swap out the material, add pockets or closures or anything else that will improve the look and function of the bag. Custom reusable bags need to spread your branding message, but when the bags are useful and handy, they will be more use from your customers. The more your customers use your branded bags the more exposure your brand will receive.
Let Us Help
The demand for reusable products, particularly reusable shopping bags, continues to grow. Promoting your business with custom reusable shopping bags is a smart choice that will increase the awareness of recognition of your brand, while also helping the planet and saving money on your marketing budget.
We are dedicated to helping our customers and the planet through promoting sustainability. We are so serious about this that we've earned a variety of honors and distinctions, including GOTS, Fairtrade, ISO 9001-2015, and FEDEX. If you want to learn more, stay up-to-date on green news and more, then please sign up for our newsletter. You can also contact us with any questions about the process, specific bags or anything else!