Connecticut Bag Fee Ends & Bag Ban Begins! Retailers & Marketers Are You Ready?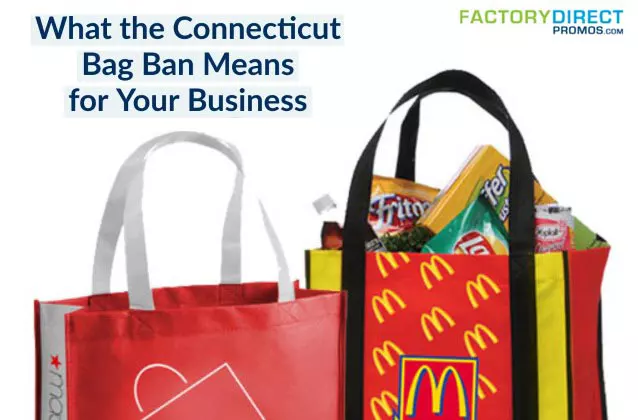 What You Need to Know About the Connecticut Bag Ban
Connecticut is soon to be the latest state to implement a single-use plastic bag ban.
If you have a retail business then this ban is a big change and also a unique opportunity.
Let's go over what you need to know about the Connecticut bag ban and how you can market your brand with custom reusable shopping bags.
Phased In Approach
Each bag ban is unique. What sets the Connecticut ban apart is the phased-in approach.
In August 2019, a 10-cent fee on single-use plastic bags went into effect. The fee was intended to help both retailers and shoppers get into the habit of using fewer single-use plastic bags. The fee has worked and has helped change habits and reduce the use of a lot of plastic in the meantime.
"We've eliminated just in traditional retail grocery stores over 500 million bags since the law's inception," said Wayne Pesce, president of the Connecticut Food Association.
Understanding the Bag Ban

Starting July 1, 2021, disposable plastic bags measuring 4.0 mils thick or less will be banned throughout Connecticut.
The ban applies to all retail businesses and includes restaurants and food trucks.
If you have more questions about the details of the new law, you can check out our earlier post, Answering 5 Common Questions About The Connecticut Bag Ban.
Big Accomplishment
Connecticut's plastic bag ban was several years in the making and it is a big accomplishment.
Many people worked very hard to make it happen, and a lot more people have put in countless hours helping retailers and consumers make the switch.
We want to congratulate everyone who has had a hand in Connecticut's bag ban and to mark the momentous occasion and we have added them to our plastic bag ban map.
Marketing Advantage
Plastic bag bans create a need for reusable shopping bags.
Designing your very own custom reusable shopping bags is a great way for your business to connect with your customers by providing a useful item that fulfills a need. As your customers head to the store, they'll grab your custom reusable bags and they will appreciate the thoughtfulness of your business for creating the bags.
Keeping your brand front of mind with your customers is definitely an advantage, but reusable bags also make excellent promotional tools because your customers will spread your branding message to a wider audience.
We offer certified reusable bags that are designed to hold up very well under regular use. Our certified reusable bags provide peace of mind that these bags will hang in there time and time again, so your customers can use your bags with confidence and your brand will receive a whole lot of exposure.
Create Your Custom Bags
We have been helping our customers create custom reusable bags that reduce the use of disposable plastic and make excellent promotional products for over a decade. We hold ISO certification as a testament to our dedication to making the process effective and easy.
Feel free to call us at 1-866-222-0949 or shop our full line of eco-friendly reusable bags and get your custom quote as soon as possible!
Tagged