Answering 5 Common Questions About The Connecticut Bag Ban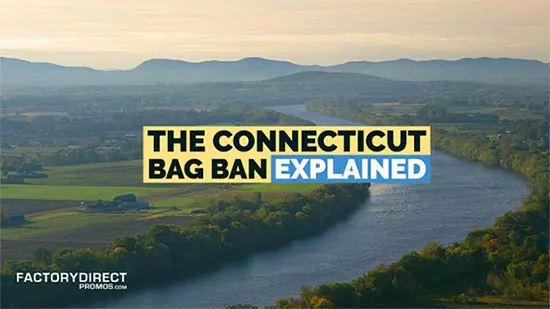 Be Prepared for Changes Coming to the Constitution State
A law passed in 2019 called to ban single-use plastic bags throughout Connecticut. The measure implemented a plan to phase in the ban. Initially, a fee would be charged for disposable plastic bags and the fee would eventually give way to a complete ban.
Everything was going according to plan, and then the Coronavirus pandemic happened.
We have long been following the ban in Connecticut and throughout the world on our plastic bag ban map. In anticipation of the final phase of Connecticut's bag ban being implemented, we rounded up common questions and answers about the ban.
1. When Will Single-Use Plastic Bags Be Banned in Connecticut?
The plastic bag ban is set to become effective on July 1, 2021. This is the second phase of the state-wide measure that started in August 2019 with a 10-cent fee on plastic bags. The fee was temporarily suspended during the Coronavirus pandemic, however, the second phase will roll out as planned.
2. What Bags Are Banned in Connecticut?
Connecticut's bag ban prohibits plastic bags that measure 4.0 mils thick or less from being handed out at a point of sale.
3. What Businesses Are Impacted by Connecticut's Plastic Bag Ban?
All businesses in Connecticut that charge sales tax and sell products directly to customers are covered by the bag ban. Namely, the ban impacts retail businesses, restaurants, and food trucks.
4. Are Paper Bags Allowed Under the Bag Ban in Connecticut?
Yes, paper bags can continue to be handed out in Connecticut. Bags thicker than 4 mils, which are considered reusable, are also allowed. Thin plastic bags used to wrap meat, produce or bulk items are allowed, as well.
5. What About Existing Bag Bans in Connecticut?
Many municipalities in Connecticut passed their own bag laws prior to the state-wide measure. These laws will still be honored as long as they are equally or more restrictive than the state law.
Essentially, any laws that ban single-use plastic bags that are no more than 4.0 mils thick are still in place. Local laws that also impose restrictions on paper bags, such as a fee or a ban, are still allowed.
Any existing laws that are not as strict as the state law will be overridden by the state ban. Any Connecticut municipality that wishes to impose a more restrictive bag ban is able to do so under the state-wide law.
We're Here to Help
Connecticut's phased approach was intended to help consumers and businesses prepare for the ban. So far, it has proven to be an effective strategy, but bag bans are still a big change and take some getting used to. We're here to help businesses adapt and grow their brand through the use of custom promotional grocery bags.
We have been in the business of creating custom bags for over a decade and our parent company is the fifth-largest distributor of promotional products in the country. This means we have the experience and knowledge to help your business design the right bag for your brand.
We have helped many brands, including several industry leaders such as American Express, Bank of America, Carnival Cruise Lines, Pepsi, The Home Depot, and Whole Foods and we are here to help you, too!
Shop our full line of custom reusable bags and use the quote request on each product page to get your custom quote!
Tagged