Latest News on Minneapolis Plastic Bag Ordinance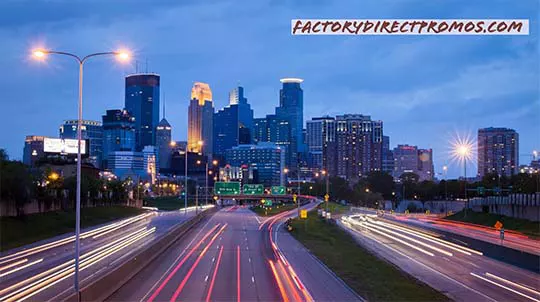 Minneapolis Looks to Be First City In Minnesota to Lead the Way to Plastic Bag Bans
Multiple efforts to legally reduce the use of disposable plastic bags in Minneapolis have fallen short. This past week the city council declined to vote on a proposal that would have levied a 5-cent fee on bags handed out at the checkout.
This comes after an approved plastic bag ban was overturned by the governor. For now there are no plastic bag bans in Minnesota or laws regulating disposable plastic bags in Minneapolis. Our hope remains that Minneapolis retailers and businesses will still offer custom reusable shopping bags to their customers.
Motivation Behind the Ban and Fee
The attempted measures to ban or impose fees on grocery bags stemmed from an urge to reduce trash and litter. Plastic does not belong in landfills, but that is where a lot of it ends up. This material is not biodegradable, so it does not safely break down.
Disposable plastic bags are recyclable however but the process is difficult. Because of the difficulty encountered, most recycling facilities will not even accept the thin film plastic bags. The lightweight design means these bags can easily be lifted away by a breeze, making them likely to end up as litter. Discarded trash is an eyesore, but it also is a serious health risk to animals and in some instances has caused dangerous flooding.
Getting Back to Basics
At the last meeting the council asked city staff to look into ways to reduce trash in the city. This is ultimately what the ban and fee were supposed to achieve. No timeline was given for when the staff has to present trash reduction solutions. Many small businesses were concerned about how the fee would impact their business.
The decision not to vote did cause some discord between members of the city council. Delaying a viable solution is disappointing for supporters of the fee and ban. Although, it is nice to see the city take the time to address concerns from the community and create a solution that works for the city as a whole.
To learn more about the bag ban movement check out our plastic bag bans on our interactive map. This interactive tool tracks the movement of plastic bag bans, fees and those initiatives that have failed across the world.
Marketing Opportunity in Minneapolis
While both attempts to reduce plastic bag trash have not passed in Minneapolis, there is still support for these efforts. There are people who, even without laws regulating plastic bags still opt to bring their own reusable bags when they shop. If you are a business in Minneapolis custom reusable shopping bags make a great promotional product that your customers will use.
Given that there has been support for a ban and country-wide support for plastic bag bans is growing, you have customers and potential customers who would be happy to have your branded reusable bag.
Tagged