3 Trade Show Marketing Ideas to Reduce Plastic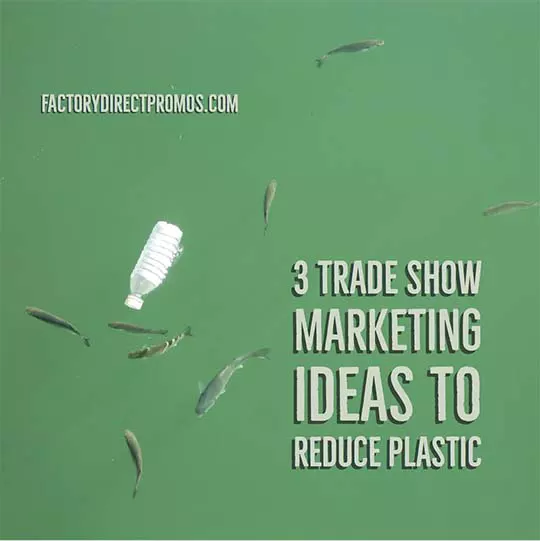 Want to Green Your Trade Show Marketing? Here Are Three Ways to Do It
It can be hard to go green at a trade show, but reducing plastic is certainly worth the effort. Plastic is overflowing in our landfills and never really breaks down – often ending up in our water and food supply. If you are interested in reducing plastic to help our planet and her people, we have three trade show marketing ideas that can make your experience more eco-friendly.
Giving away promotional products is common practice at trade shows, but many times they are made of plastic. Eco-friendly takeaways are a great trade show marketing opportunity for customers, potential customers and members of the media. Your eco-memento will serve as a constant reminder of your brand. Your display is another way to make your exhibition experience more green. Read on for three ways to reduce plastic.
Hand Out Reusable Trade Show Bags

Attendees can easily collect a lot of stuff while walking the trade show floor. From catalogs to branded takeaways everything can really add up. Reusable trade show bags are an eco-friendly alternative to plastic bags. They also act as takeaways that will reduce both your brand and your customers' environmental impact. The bags are immediately useful for your customers, as they can use the bag to carry the items they collect during the show. Reusable trade show bags can also find lots of use as a grocery bag after the show ends. They will continue to promote your brand the entire time.

From sustainable options like bamboo and cotton to recycled options made from recycled plastic like woven and non-woven polypropylene, there are a lot of materials to choose from when creating reusable trade show bags. Your branding information can be printed directly on the bag to always remind your customers about your brand.

Use Eco-Friendly Lanyards

Lanyards are a great way to keep keys or an ID badge close by. Many exhibitors offer customized lanyards as a marketing option to hold name tags at a show. Lanyards are also very useful after the trade show is over.

Eco-friendly lanyards can be made from a variety of recycled materials that are eco-friendly. Utilizing fabric made from recycled plastic bottles offers a new use for this material that helps to keep it out of the waste stream.

Green Up Your Displays

Choose eco friendly trade show marketing by working with companies that specialize in eco-friendly displays and choose eco-friendly retractable banners. These banners are made from sustainable and recycled materials which makes them eco-friendly. The banners are also reusable, so they can be used again and again reducing the need for other displays. The retractable design makes them easy to pack and ship for added convenience.
The Positive Impact
Reducing plastic at your next trade show can have a major and positive impact on the planet and your brand. Incorporating just one of these ideas can have an impact, but going for all three can have a much larger impact.
Contact Factory Direct Promos today for eco-friendly promotional marketing ideas that reduce plastic and market your brand long after the trade show is over.
Tagged