Will Fort Lauderdale Bypass Existing Florida Law to Ban Styrofoam?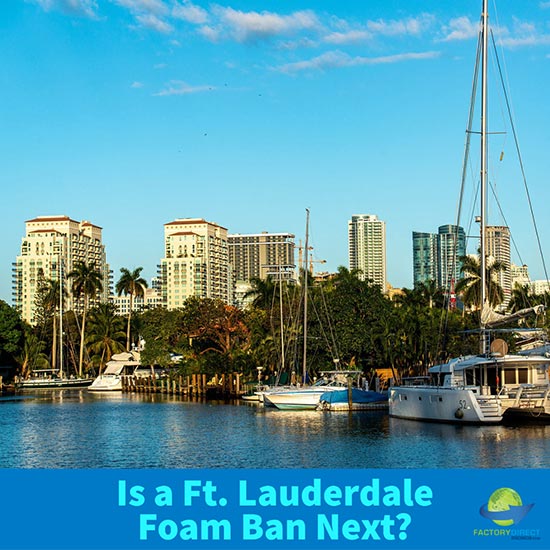 Find Out What a Possible Plastic Foam Ban Means for Your Business
Fort Lauderdale is making waves for a proposal that would help to eliminate trash and litter. If approved, plastic foam food containers, also known as Styrofoam would be banned from beaches and public areas.
We are very excited about this prospect since Fort Lauderdale is right in our backyard.
Find out how this proposed ban works around an existing law, what this means for not just Fort Lauderdale but also surrounding municipalities, and what this Styrofoam ban can mean for businesses in South Florida.
Helping the Environment
Fort Lauderdale is located about 28 miles north of Miami and boasts 7 miles of beaches, but a network of canals that run through the city cover over 150 miles. Water, whether it be the Atlantic Ocean or the canals is a big part of life in Fort Lauderdale.
Litter has a tendency to end up in bodies of water and washed up on beaches. This trash is an eyesore, but it is also potentially harmful to animals and can be damaging to ecosystems while also presenting a hazard to boaters. Many residents in Fort Lauderdale have indicated that they want to put an end to the trash that litters their beaches.
A ban on food containers seems like a logical next step.
More Information About the Ft. Lauderdale Styrofoam Ban
Fort Lauderdale's proposed foam ban specifically prohibits Styrofoam food containers, like coffee cups and to-go boxes from beaches, city parks, city buildings, city-owned golf courses, and marinas.
Vendors employed by the city would also be impacted by the Styrofoam ban.
One more vote, that is set to happen later this year, is all that stands between this ban from becoming a reality.
Going Around Existing Florida Law?
The language of this ban is very specific due to an existing Florida law.
In 2016, a Florida state law prohibited banning Styrofoam from businesses, particularly restaurants, along with convenience and grocery stores.
Fort Lauderdale is not banning those businesses from handing out Styrofoam containers, but it is banning the use of Styrofoam from city-owned spaces.
Start of a New Trend
One thing we've learned from our plastic bag ban map is that bans like this tend to spread.
Once one city or county passes a ban, this action will inspire neighboring communities to do the same, or pass their own take on a ban.
We're very interested to see what happens in Fort Lauderdale partly because we're excited to see less plastic litter.
We're also very interested to see if this ban inspires other municipalities to pass bans of their own.
Adapting to the Ban
In order to best serve their customers and their communities, Fort Lauderdale businesses that serve food to go will need to find alternatives to Styrofoam.
We can help because we will offer insulated bags and reusable drinkware. These eco-friendly options are good for the beaches of Fort Lauderdale and the rest of the community but are especially helpful in this day of heightened awareness about health and safety.
Restaurants can create logo drinkware options for purchase and discount on refills to help encourage customer loyalty.
Learn more about our logo reusable drinkware options available in order to find the right fit for your business. We also offer recycled cooler bags and custom cooler bags, both of which are great for keeping cold food cold and hot food hot on delivery.
Two Ways to Order
We make it easy for your business to get the reusable drinkware and custom cooler bags you need by offering two ways to order.
Our in-stock selection is available much more quickly. These items are already manufactured, so you just need to send us your artwork and we can customize your items in no time. This is ideal if you need a small quantity or if you need items quickly.
Our custom/bulk ordering is a better fit for items that require a higher level of customization or large orders.
When you choose to order custom or bulk items, your reusable drinkware or custom bags will be made to order. For this reason, we can offer a greater level of customization. We can also accommodate much larger orders.
We're Here to Help
We have some serious staying power since we have been helping our clients for over 10 years while our sister brand has been around for almost 100 years.
As evidence of our commitment, our company holds ISO certification, and we're also fun to work with while still being efficient.
We will always underpromise and over-deliver.
Our client list includes Carnival Cruise Lines, Whole Foods, American Express, The Home Depot, Pepsi, Bank of America, and so many more.
Shop our site today and get your customized quote on reusable branded drinkware in bulk and custom insulated cooler bags.
Tagged