New Jersey Governor Promotes Reusable Bags and Businesses Benefit!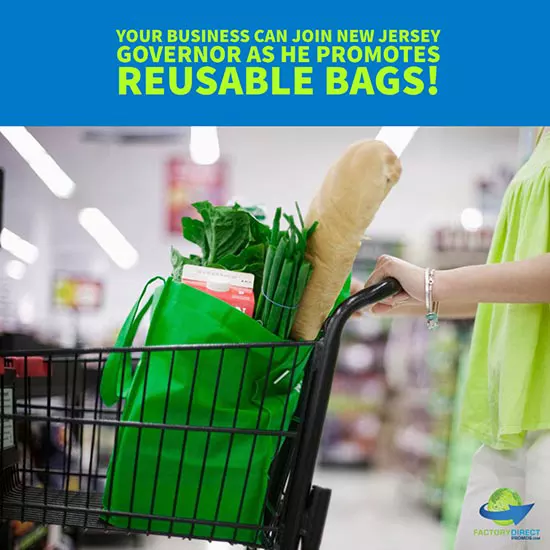 New Jersey Governor Signs Toughest Single-Use Ban on Plastics Legislation into Law…Promotes Eco-Friendly Reusable Bags Your Business Can Use for Marketing and Retail
New Jersey has long been a hotbed for single-use plastic bag bans and they are now the most recent state to pass a ban on disposable plastic bags.
While several states have already passed plastic bag bans, New Jersey definitely did things their own way by passing a unique and comprehensive law.
Learn more about what sets New Jersey's bag ban apart from all the others and what your business needs to know about the New Jersey bag ban.
Growth of the Bag Ban Movement
The bag ban movement in the Garden State is a great example of how the movement can grow organically. After one town passed a ban this would inspire neighboring towns to follow that lead and before long 55 New Jersey municipalities had plastic bag bans in place. As a network of bag bans began to crop up, a state-wide ban became the next logical step.
You can learn more about how the bag ban movement grows with our interactive map of all of the bag bans in the world.
Details About the Ban
An earlier version of the state-wide ban failed to pass because the governor felt the measure was not effective enough. This setback was disappointing at the time, but officials redrafted the measure and came back with a stronger, more comprehensive proposal. The ban was recently signed into law by Governor Phil Murphy and it will go into action in the Spring of 2022.
New Jersey's bag ban covers more than just single-use plastic bags.
In addition to plastic bags, the law also bans polystyrene while placing restrictions on plastic straws and the law will ultimately phase out paper bags at larger grocery stores.
Looking Ahead
Plastic bag bans reduce trash and litter, but also create a need for reusable grocery bags. Whether you own a retail business and your customers need bags to carry items home, or if you want to promote your non-retail business, custom reusable bags can help spread the word.
Eco-friendly reusable bags are good for the planet and good for your business. You can create walking billboards for your business while empowering your customers to live more eco-friendly lives. 
Join Gov. Phil Murphy of New Jersey and make the switch to reusable bags. If a bag ban is not in your area yet, one soon will be, so now is the time to create your own custom reusable bags.
Two Ways to Buy
We understand that businesses may have different priorities when it comes to ordering custom reusable bags, and that's why we offer two ways to order: in- stock and custom/bulk.
Before you place your order, we suggest planning ahead to determine the ideal quantity.
We find customers sometimes don't order enough because they didn't plan ahead, and the more bags you order the lower the price per bag, so it really saves to place a large order.

If you need a small quantity or if you need your bags right away, then select from our in-stock selection. Our in-stock bags are already made, so we can quickly print your branding message on the front and they are ready to go.
If you have more flexible timing or if you need to order a large quantity, then you'll want to consider our custom/bulk ordering. This option provides more freedom in terms of design since the bags are made to order. This enables you to alter the structure of the bag to best serve your customers and your brand.
The Factory Direct Experience
We're able to offer such high levels of customization because we work directly with our factory. This saves time and eliminates middlemen along with their cut and fees, so it also saves money.
We've been helping our customers create custom reusable bags for over a decade. During this time we have worked with some truly amazing clients, like Carnival Cruise Lines, Whole Foods, American Express, The Home Depot, Pepsi, Bank of America, and so many more.
Now let's add your business to the list!
We are passionate about reducing the use of single-use plastic and helping businesses grow.
We take what we do very seriously which is why we are ISO certified, so the process is easy and streamlined.
Contact us to learn how to design your own reusable bag!
Tagged