The Secret To Ordering Tradeshow Bags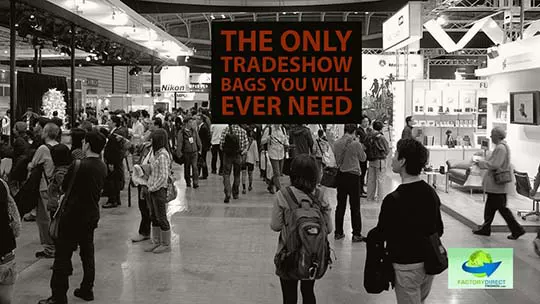 Putting Trade Show Bags To Work for Your Brand
The right trade show takeaway can do amazing things for your brand by generating excitement during the show and continuing to promote your business years later. Trade show bags make an excellent takeaway because they act as a walking billboard for your brand. Research shows that bags create more ad impressions than any other form of advertising, including TV! Find out what the big secret is to ordering trade show bags is by reading below!
Effectiveness of Trade show Bags
Trade show bags make amazing promotional products because of their general usefulness and functionality. The bags are incredibly handy during a trade show and give attendees a place to stash all of the goodies, catalogs, and more they pick up as they walk the show.
Once the trade show is over, these reusable bags are just getting started. Trade show bags can easily be repurposed into reusable grocery bags, a work tote, a gym bag, or just about any other use. As your customers use your branded trade show bags, they will continue to get the word out about your brand.
Okay, so we know trade show bags work, but what is the big secret?
Ordering Options
When it comes to ordering trade show bags, you have two options. First is our in-stock line-up of bags. These are already constructed bags; you just need to send us your artwork, which we will print on the bags and quickly get them back to you. This is a great option that you probably use most frequently. But truly, the big secret to ordering trade show bags is the second option.
Your second option is what we call custom or bulk bags. These custom trade show bags are the BIG SECRET to ordering the best trade show bags. When we say custom, we seriously mean custom trade show bags. You can change anything and everything about the bags, from the size, shape, material, and more. You get to create something completely unique and one-of-a-kind for your brand. You can go full-color, design a messenger bag; heck, we even had one client create an avocado-shaped trade show bag!
Ordering custom trade show bags in bulk is how you will get the lowest price possible direct from the factory and full-color customization. The only thing to remember is that you must give yourself lead time in order, and quantities must be at least 1500.
Meeting Your Deadlines
Exhibiting at a trade show requires a lot of coordinating and planning, and despite your best efforts, you may fall behind. When time is tight, and you need custom trade show bags, ordering from our in-stock selection is your best option. Since these bags are already constructed, we can quickly get to work printing your branding message on the front to get them to you as soon as possible. Typically, we need a few weeks to turn around an in-stock order.
But the secret to ordering is that with a bit of planning and a lead time of 90 days, you can create the only trade show bags you will ever need…over and over again in any shape or design you can think of.
Design Your Bag
With almost 30 years in the business, we understand how to streamline the process to save time and money, and we pass these savings along to our customers. The right bag can help promote your brand during industry events and long after to effectively expand and reinforce your brand's reach. Find out just how easy it is to create trade show bags using the secret! Contact factory Direct Promos today and ask about bulk ordering your trade show bags.
Tagged