3 Eco Friendly Bags YOUR Customers WANT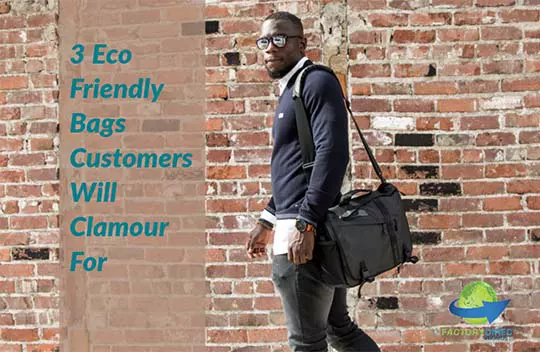 Finding the Right Promotional Product
The primary goal of a promotional product is to promote your brand, but this involves more than simply displaying your logo and branding information. Eco friendly bags have been around for a long time. These days, consumers know plastic bags are bad for the planet and for your business. Many consumers are now seeking out this reusable bags and businesses that hand them out.
Consumers know that single-use plastic bags are bad for the planet and bad business. Opting to promote your business with eco friendly bags is good for the environment, which in turn is good for your brand. Check out these three types of eco friendly bags your customers will want to get their hands on.
Messenger Bags
At their most basic, messenger bags have a spacious compartment and a wide strap that can be worn over the shoulder or across the body. This style of bag is great for business professionals and even students who need to carry documents, a laptop or tablet and more.
Messenger bags also great for traveling and can be used as an overnight or carry-on bag. Our selection of eco friendly messenger bags features a variety of looks and styles, all of which will appeal to your customers. The addition of pockets make the bag useful by creating specialized spots to store items, so it is easy to retrieve things when needed.
Folding Tote Bags
Folding totes are exactly what they sound like: a reusable tote bag that folds into a small pouch when not in use. This handy folding feature makes it easy for your customers to bring the compact bag along on the go, while providing the convenience of a regular-sized reusable bag when they need it.
These small eco friendly totes are great to stash in a car or desk or anyplace else where they are close by without being in the way. Some folding totes fold into a separate pouch, while others fold into themselves for a more streamlined approach.
Customized Bags
A custom bag can be whatever you want it to be, because you are in charge of the design. Designing your very own custom reusable bags may seem overwhelming, but we make the process easy. Simply choose the material and size and add whatever additional features you feel will lend the back function.
Designing your own bag gives you the ability to create something completely unique. For instance, if you want a bag that fits your product and can be used as a carrying case, we can make that happen. If there is another need or purpose you want to fulfill, a custom designed bag can provide a great solution.
Custom eco friendly bags require a bit more production time of about 60-90 days as opposed to in-stock turnaround which is about 1-2 weeks. But the wait is worth it when you have something that serves your unique brand and appeals to and excites your customers.
Give Your Customers What They Want
For almost 30 years we have been helping our clients create high-quality and eco friendly bags and products to represent their brands. During this time, we have learned how to streamline the process to save time and money, and we pass this savings along to our customers.
Contact Factory Direct Promos for all of your eco friendly bags and promotional product needs.
Tagged