WASTECON Rocks Nashville with Reusable Recycling Bags!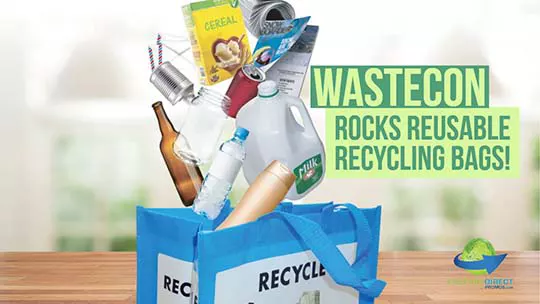 WASTECON Rocks with Industry Leaders, Innovation and Reusable Recycling Bags!
We recently participated in WASTECON 2018 and it was a blast. This year's conference was held in Nashville. We met so many amazing people who are working on some really innovative solutions to streamline the solid waste industry in North America. We enjoyed meeting so many talented and passionate recycling pros and hearing about the challenges in getting more people to recycle. Learn more about WASTECON and find out how we helped educate leaders in the recycling industry with our reusable recycling bags.
Advancing Solid Waste Management
WASTECON is an annual conference put on by the Solid Waste Association of North America (SWANA). SWANA is an organization made up of over 10,000 professionals, both public and private, all working towards the same goal of improving and advancing solid waste management through research, advocacy and education.
SWANA began using the name WASTECON in 1994, but this convention dates back even further. What sets WASTECON apart from similar conventions, is that this is the only convention put on for the solid waste industry by members of the solid waste industry. WASTECON is typically attended by thousands of industry professionals and features facility tours, training courses, technical sessions, social networking events and many other exhibits.
Reusable Recycling Bags

Factory Direct Promos exhibited at WASTECON this year to showcase our reusable recycling bags. Recycling rates are low in apartments and multi-unit dwellings due to a number of factors. The curbside recycling programs that work so well in homes, just do not work in apartment complexes.
Our reusable recycling bag changes that, by simplifying recycling in apartments. At WASTECON 2018 we showcased our reusable recycling bags and explained how these bags are affordable, space efficient, eco-friendly, educational and fully customizable to make easy work of recycling in multi-unit homes and apartments.
Our Multi-Family reusable recycling bags have been very successful in the cities and locations that have opted to use them. These bags make it easy to recycle and are perfect for smaller spaces and an easy way for municipalities and complexes to educate residents on what to recycle.
Made from recycled material and 100% reusable and recyclable, these recycling bags promote participation. The strong, laminated material is durable and practically leak-proof. Everything that a tenant needs to know about what can and cannot be recycled can be printed right on the bag in full color.
Custom reusable, recycling bags can be built in any size and can feature any imprint and color that will make them unique. Handles on the top help for normal use and/or hanging and one handle on the bottom allows for sanitary disposal.
Take Advantage of Reusable Recycling Bags to Increase Recycling Rates Easily
We have been offering our factory-direct pricing on custom reusable bags for almost 30 years. Our processes and procedures are efficient. We save time and money, and we pass these savings along to you. Get your quote now on your custom reusable recycling bags!
Tagged