Why Eco-Friendly Tote Bags Are Good for The Environment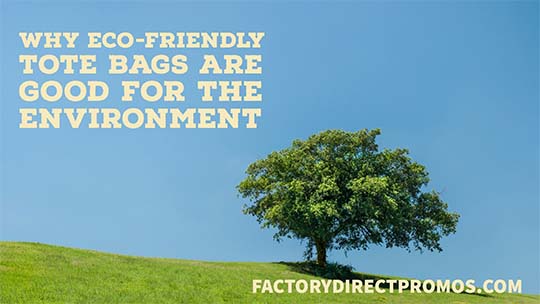 Learn How Eco-Friendly Tote Bags Benefit The Environment
The first incarnation of the tote bag was introduced in 1944 when L.L. Bean debuted a canvas bag that was built to carry ice. It became a commercial success when it was re-introduced to the market in the 1960s.
Now, eco-friendly tote bags have become an alternative to single-use plastic bags. The material that's used in production, the guaranteed durability, and the affordability of eco-friendly tote bags make them products that have promotional value for the brand while also having the potential to improve the environment.
Below, we take a look at how these features translate to a greener planet.
The Material is Recycled
Our stocked eco-friendly tote bags have a density of 100 GSM at a minimum. You might be asking, what does that mean?
The bags are made of recycled materials that are tough, flexible, and can carry a branded message as well as an image imprint. By using recycled materials, harmful materials (like single-use plastic) are kept out of landfills and oceans.
Durability is a Focus
Without having the promise of a long shelf life, eco-friendly tote bags wouldn't be effective in reaching their intended goals. The true power of these bags is the impact they have had on society. With a valid alternative available, awareness surrounding the negatives that plastic bags bring has risen.
Each time an eco-friendly tote is used, a single-use plastic bag is kept out of circulation. The non-woven polypropylene material is resistant to stretching and shrinking, and it won't retain water. These qualities are only the beginning. Eco-friendly totes will remind you of how valuable they are with each use as they stand the test of time.
Affordability is a Necessity
By nature of being a non-woven option, these bags are built to be affordable. Non-woven bags are generally more cost efficient at the point of purchase because they are easier and cheaper to make. The low cost makes them a strong candidate to be a green promotional product for any company.
A brand that hopes to emphasize its green marketing initiatives has a lot to gain from investing in eco-friendly tote bags. They come at a low-cost and the returns can be strong for both your brand and the world around you. A tote bag has the potential to become part of the daily routine. By getting these bags into the hands of your customers, you are providing them with a crucial tool that can be a precursor to a greener earth.
The Bottom Line
We're excited about the potential impact that eco-friendly totes can have for your brand, for your customers, and for the earth. Going forward, a focus on producing eco-friendly products will lead to a greener planet. Single-use plastic, as a material, is the real perpetrator and we are in need of alternatives across the board.
Explore our collection of eco-friendly promotional products to provide your customers with a durable alternative to plastic.
Tagged