Eco-Friendly Wholesale Reusable Drawstring Bags As Low as .49 Cents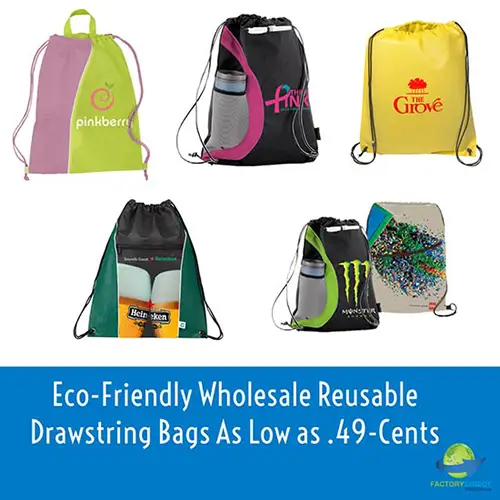 Wholesale Reusable Drawstring Bags Make the Most of Your Marketing Budget
The right eco-friendly, promotional item for your brand needs to appeal to your customers and be something useful and functional. This functionality translates into more frequent use which means your branding message will frequently be on full display.
Our wholesale drawstring bags provide a specific function that appeals to certain demographics.
Also, is these bags are available for as low as 49-cents per bag.
This means you can create a custom reusable bag for a great price and really make the most of your marketing budget. Find out what makes our wholesale reusable drawstring bags a good marketing investment.
Custom Drawstring Bags
Drawstring bags, also known as cinch bags, are backpack-style bags that can be easily worn over the shoulder for hands-free carrying of items. These bags are commonly used to carry items needed for work, school, the gym, or just personal items needed while on the go.
Part of what makes drawstring bags so useful and appealing is the versatility of these bags.
Specialized bags definitely serve a purpose, but the more generic and open-ended qualities of these drawstring bags make them useful in so many ways to so many people.
The Value of Promotional Products
All custom reusable bags work like signs that put your branding message on display.
Custom wholesale drawstring bags are to be worn, which is beneficial for your branding message. Your marketing information will be on display of every person wearing the bag so it will be clearly visible for others to see. This increased visibility will ensure your message is seen and that it becomes easily recognizable.
Order Your Way
Choose from our in-stock selection, which are pre-constructed so all you have to do is customize them with your artwork. This ordering method supports quicker turnarounds and is ideal for smaller quantities.
If you want to customize beyond simply printing your artwork on an existing bag, we can do that, too.
We can create custom bags in bulk to order as part of our 'Custom/Bulk' option. This lets you alter the design of your custom drawstring bag.
You can select the material, alter the size, add pockets, or design anything else you want in order to create a bag that looks and functions to your exact specifications.
We work directly with our factory, which enables us to streamline the process and have greater control over the manufacturing, so if you can dream it up, we can help make it happen.
This direct relationship with our factory also makes bulk ordering incredibly easy. Whether you want to design your own bag or simply customize an existing bag design, we can still make your bags to order. Bulk ordering allows you to lock in a low price per bag, so you can get a great deal.
Design Custom Reusable Drawstring Bags
We've been helping our customers, including Carnival Cruise Lines, Whole Foods, American Express, The Home Depot, Pepsi, Bank of America, and so many more design their very own custom reusable bags for over 10 years.
During this time we've learned how to streamline the process to save time and money, and we extend these savings to our customers. We also hold ISO certification as further evidence of our dedication to best serve our customers.
Shop our entire selection of eco-friendly, wholesale drawstring bags, and request your customized quote today!
Tagged