Zippable Foldable Totes Offer Promotional Marketing ROI for Under $1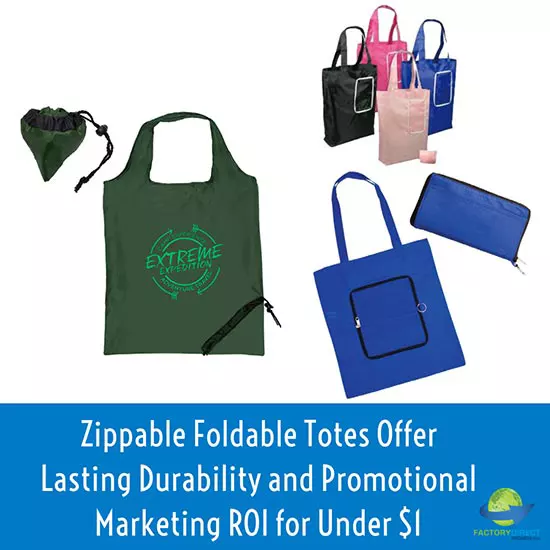 Give Your Customers Lasting Durability with Useful Zippable Foldable Tote Bags That Will Work to Grow Your Brand
Our top-selling, zippable folding tote bags offer the durability your brand needs in custom reusable bags to effectively promote your business.
The durable construction and convenience of having a reusable bag at the ready make our zippable foldable totes a cost-effective way to promote your brand. The ideal, eco-friendly promotional product needs to merge convenience, durability, and customizability in order to ensure your customers use the bags and your branding message is noticed.
Find out why our zippable foldable totes are one of our best selling reusable folding tote bags and how you can secure a marketing ROI for under one dollar.
Always Handy Convenience
Zippable foldable totes are designed to fold into themselves and form a small pouch. This makes it possible for your customers to easily stow the bag in a desk drawer, glove box, inside of a purse, or any place else so a reusable bag is always close by.
When your customers need a reusable bag, they can simply open up and unfurl your custom branded bag and they are good to go.
Zippable foldable totes are great for your customers, but they also do a lot to promote your brand.
As your customers use and carry your custom folding tote bags, your branding info will be on full display. These tote bags essentially work as a walking billboard for your brand and will last for years under regular use, which means they deliver a great return on investment or ROI.
Handy Features
Our best selling zippable folding totes have so many useful features your customers will appreciate. Some of those features include:
Foldable design fits into a small zip pouch
Durable and eco-friendly 210D polyester recyclable material
Reusable design
Constant Reminder
Reusable bags are one of the most well-received forms of advertising.
In fact, consumers are more likely to do business with your brand if you give them a promotional gift like a reusable bag.
People appreciate the convenience and the eco-friendly qualities of reusable bags.
While the bags certainly serve a useful purpose, they will also show your customers that your brand understands and appreciates the needs of their customers.
Green Marketing
Reusable bags are more in demand today than ever before. This is partly because more and more consumers are trying to reduce their use of plastic. Reusable bags provide a safe and convenient way for your customers to carry items home from the store, but the versatility of these bags make them useful in so many ways.
Reusable bags have become even more in demand thanks to an increase in single-use plastic bag bans. As more cities and towns, and now states pass bag bans more consumers than ever before have had to stock up on reusable bags.
Zippable folding totes are a great way for your brand to help your customers adapt to a bag ban while also ensuring your branding message is widely disseminated.
Order Your Way
We understand that your business is not like any other and we work to accommodate your needs by offering two ways to order.
You can choose from our in-stock ordering or our custom/bulk ordering. Both options provide high-quality bags that deliver a great ROI, but there are some differences that can best serve your needs.
Our in-stock bags are pre-assembled and ready to go. Send us your artwork and we'll print it on the bag, creating a custom promotional product that will grow your brand. In-stock ordering is a better fit for small orders and tight timelines.
If you have more flexible timing or if you need a much larger quantity, then you'll be interested in our custom/bulk ordering.
The larger the quantity of your order, the lower the price per bag, so bulk ordering can help you secure an even better deal. Custom/bulk ordering also supports a much greater level of customization. Since your bags will be made to order, you can tweak an existing design or completely re-work the design to best fit your vision.
Create Your Own Zippable Folding Tote
Shop one of our favorite, eco-friendly, foldable tote bags and request your customized quote on this top-selling zippable folding tote bag.
Tagged