Eco-Friendly Promo SITEWIDE Next Column Pricing Cyber Monday Sale Extended!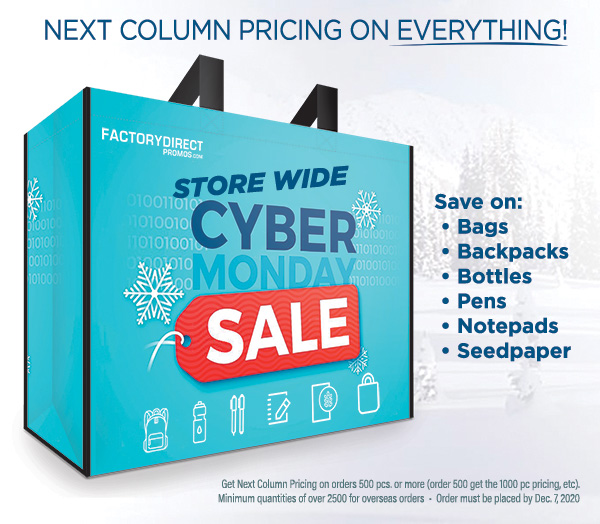 Promote Your Brand While Securing a GREAT Deal on Eco-Friendly Promotional Products
We're offering a very exciting Cyber Monday sale that is such a great deal, we're extending it through Monday, December 7, 2020. This special covers a variety of eco-friendly promotional products, including bags, backpacks, water bottles, pens, notebooks, and seed paper.
For a limited time, you can lock in a great deal and take advantage of next-column pricing when you select ANY of the eco-friendly, promotional items on our ENTIRE SITE!
This is a great way to put eco-friendly, promotional marketing items to work for your brand while also securing a great return on your investment.
DO NOT WAIT to take advantage of our sitewide next-column pricing sale! This sitewide deal will be gone before you know it and we have no idea if it will be back in 2021.
Benefits of Promotional Marketing
Promotional marketing is a method of promoting your business by creating and distributing custom items, like reusable bags, pens, seed paper, and other items.
This method is effective because as your customers use your branded items they will be reminded of your brand, but they will also spread your branding message to others. For instance, as your customers carry your custom-branded bags, they will spread your branding message to others they see.
This repetition will help reinforce your branding message with a larger audience, but it will also strengthen your brand with your customers.
The more your customers see your branding message the more familiar they will become with your message.
Understanding Next Column Pricing
To understand next-column pricing, you need to understand how our pricing works.
Our pricing is centered on the number of items in an order, or the quantity.
The quantity determines the amount of materials needed to create the final order.
As the quantity increases the materials to create that order also increase, but the amount of time to manufacture the custom products stays relatively constant. The material cost is spread out over the entire quantity.
When it comes to ordering custom promotional items, you will often secure a lower price per item when you order a larger quantity. The pricing is usually broken down in a chart that outlines the cost per item ordered.
Next-column pricing means you can order the quantity you need but pay the price listed in the next column, which would normally be reserved for a larger quantity and offer a lower unit price.
Selecting The Right Item for Your Brand
Promotional marketing is most effective when you find the right item for your brand.
According to Advertising Specialty Institute research (ASI), consumers are more likely to do business with brands that give them eco-friendly promo.
The repetition will remind and endear your brand to your customers, but this constant reminder will also help spread your message to a wider audience.
Our current Cyber Monday eco special extends to a variety of items so you can find the right item that will speak to and reach your demographic.
Take advantage of next-column pricing on bags, backpacks, bottles, pens, notebooks, and seed paper depending on which item will appeal to your customers.
The ability to take advantage of next-column pricing on a variety of different products allows you to customize this sale to best fit your brand and your needs.
We Are Here to Help
We've been in the business of helping brands create custom promotional products for just over a decade. During this time we have learned how to make the process quick and easy and we can help you create the right promotional marketing item for your brand.
The right item will speak to your customers and make sure they think of your brand when they need to make a purchasing decision.
Shop now! This Cyber Monday sale is only available for a limited time!
Tagged