Retailers Respond to Texas Supreme Court Ruling on Plastic Bag Bans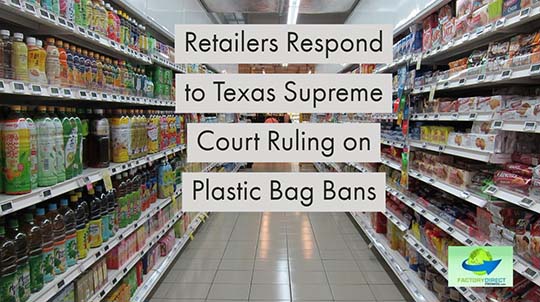 Plastic Bag Bans No Longer Allowed in Texas?
Recently the Texas Supreme Court ruled that a state law preempted the disposable plastic bag ban in Laredo. This ruling effectively overturned the ban in Laredo as well as all of the other single-use plastic bag bans in Texas. We wrote about the Texas Supreme Court Ruling on plastic bag bans a couple of weeks ago. We mentioned, "It is disheartening to see the hard work put in by local governments overturned, but it is possible these municipalities will find a way to keep their cities clean while also aligning their ordinances with state laws." And they are! Laws or no laws, plastic is bad for the planet. Find out how some Texas municipalities are dealing with their overturned bag bans and how you can design your own wholesale reusable shopping bags to promote your brand help and give consumers what they want.
Results of Plastic Bag Bans
Plastic bag bans work when it comes to reducing litter and improving the flow of the waste stream. Disposable plastic bags are very likely to end up as litter. This litter is unsightly and can block drainage systems, resulting in flooding and damage. Recycling rates for plastic bags are low, partly due to the difficulty consumers face in recycling their bags and also due to most recycling facilities choosing not to accept plastic bags. Plastic bag bans turn out to be the most effective solution to these problems. Plastic is bad for the planet.
Benefits of Plastic Bag Bans for Retailers
Plastic bag bans certainly take some getting used to, and consumers must get into the habit of bringing their own reusable bags. Retailers often experience some growing pains along with their customers when bans are first implemented. After adhering to a plastic bag ban becomes habit, retailers benefit given that they no longer need to supply disposable plastic bags.
Benefits of Bans for Communities
Austin is one of the Texas cities impacted by the Texas Supreme Court reversal of plastic bag bans. Austin passed a ban back in 2013, and shortly after the court ruling, officials announced the ban was no longer effective. But the plastic bag ban in Austin proved to be very effective. A study conducted in Austin in 2015 found that fewer bags in the waste stream, when compared to other municipalities without bag bans, and a 75 percent reduction in the amount of plastic bags that ended up as litter!
Reusable Bags New Normal Across America EVEN WITHOUT Plastic Bag Bans
For many of the cities that have enjoyed the benefits of plastic bags bans, it can be hard to go back. The local waste management agency, Austin Resource Recovery, plans to develop a program to encourage retailers to maintain the positive impact of the ban and minimize plastic bag use. Retailers know plastic is bad for the planet. They are on-board with continuing the effort to go plastic-free. Efforts are also underway to reduce the use of disposable plastic straws.
This new normal is gaining momentum across the country and we will be reporting on more of these stories. The amazing thing is that it is many young people (our future consumers) who are creating many of these changes, in spite of state laws regarding plastic bag bans. Stay tuned to hear about Zoé Mueller, the Girl Scout who is leading Mount Dora, Florida to go plastic-free regardless of the ban on bag bans in Florida. Her slogan is, "Protecting Our Water and Wildlife". Retailers are obviously behind her as is the entire city. They all know that plastic is not good for our planet.
Meeting Expectation
Many consumers have grown accustomed to life with single-use plastic bags, but they now expect retailers to make the effort to reduce the use of single-use bags. Retailers in areas no longer covered by bans are finding that even though they can offer single-use plastic bags, they don't want to, and their customers are on-board!
The Value of Doing Good
Consumers like to do business with brands that work to make the world a better place. Opting not to provide single-use plastic bags because plastic is bad for the planet can endear a brand to customers. There are bound to be shoppers who find the lack of disposable bags an inconvenience, but most shoppers will respect the brand for taking a stand and working to promote change. Brands that do not protect the planet, will pay for it with fewer customers.
Join the Movement
The time has come when consumers are demanding a reduction in plastic, and brands can differentiate themselves and grow their business by creating their own wholesale reusable shopping bags. Custom reusable shopping bags help brands to do good by reducing plastic litter and trash. Help consumers drop their plastic habit, gain customers and protect the planet by offering reusable shopping bags.
Contact Factory Direct Promos today to get the help you need to help protect the planet.
Tagged