Recycled Kraft Paper Bags at Wholesale Pricing!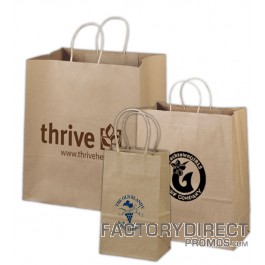 Stretch Your Budget with Recycled Kraft Paper Bags at The Lowest Possible Price!
If you need custom-branded bags for your business consider using recycled kraft paper bags. These bags are an item that allows customers to carry items home without adding to plastic waste pollution and can fit into your branding plan.
High-end Kraft recycled grocery bags can be customized with your branding information, can be used several times, and are eco-friendly marketing tools. Kraft recycled grocery bags are ideal for retail businesses, restaurants, spas, and more.
Recycled Kraft Paper Shopping Bags Are Eco-Friendly
Recycled kraft paper shopping bags are made from recycled content paper, which makes them a great eco-friendly choice. Paper bags can be used several times, and once they have fulfilled their usefulness they can be recycled. Unlike plastic bags, all recycling programs accept paper bags, making them extremely easy to recycle.
Customize Your Kraft Paper Bag to Fit Your Brand
Kraft recycled paper bags come in a variety of sizes, so you can select the size that works best for your brand, and how your customers will use the bag. Have your logo or company brand printed directly on the bag to turn it into a marketing tool.
When your customers carry their purchases in your branded grocery bags, they will spread your branding message to everyone they encounter. If your customers repurpose your branded bag for future use, they will give your brand even more exposure.
We Can Help You Create One-Of-A-Kind Kraft Recycled Grocery Bags
For over 20 years we have been helping businesses like yours effectively market their goods and services with eco-friendly bags. We not only offer the best possible pricing on recycled kraft paper bags, but we also offer the ability to help you rest easy and know you are in good hands.
We understand you have a lot of choices out there and we are here to make the process easy. Contact us today or fill out a quote request and we will get started creating your one-of-a-kind Kraft recycled paper bags.
Tagged