Answering 10 Critical Questions About the Philadelphia Bag Ban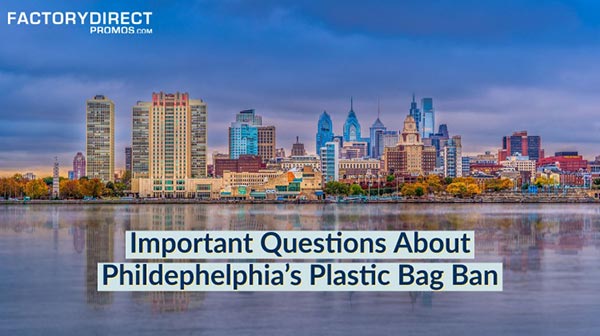 What Your Business Needs to Know to Go Green in Philly
Philadelphia is one of the latest cities in the U.S. to ban single-use plastic bags. We first talked about Philadelphia and their proposed bag fee back in 2015. After years of hard work and various setbacks, including two delays related to the pandemic, single-use plastic bags are now banned in the City of Brotherly Love.
Each bag ban is unique (check out our interactive bag ban map), and Philadelphia's ban is no different, so we break things down and answer 10 critical questions about the bag ban.
1. Why Ban Plastic Bags?
Disposable plastic bags are very likely to end up as litter. Recycling plastic bags is often ineffective and costly. The bag ban in Philadelphia is intended to reduce litter, while also streamlining the waste stream and ultimately saving the community money.
2. What Businesses are Impacted by Philadelphia's Bag Ban?
The ban covers all retail businesses in Philadelphia, including supermarkets, convenience stores, service stations, department stores, restaurants, food trucks, farmers' markets, and more.
3. What Types of Bags are Banned?
All plastic bags that are less than 2.25 mils thick or manufactured using a blown film extrusion process and made from PLA (polylactic acid or other types of bioplastics) are banned.
Essentially, thin plastic bags intended to be used once at a retail point of sale are prohibited.
4. Are Paper Bags Allowed?
The ban also extends to some paper bags. Paper bags that are allowed must be made from at least 40% recycled content, and contain the words "recyclable" or "recycled content", along with the manufacturer printed directly on the bag.
5. What Types of Bags Can Retail Businesses Provide?
Businesses can provide bags that are designed and constructed to be reusable and paper bags that meet the established criteria.
Retail businesses can decide whether to provide reusable or paper bags for free or for a cost.
6. When Was the Bag Ban Implemented?
The ban was signed by the mayor in December 2019 and the start date was delayed a couple of times. The bag ban began on July 1, 2021, however, the measure will be enforced on a delayed schedule in order to give businesses time to adapt to the ban.
7. What Happens to Businesses That Do Not Comply with Philadelphia's Bag Ban?
Any violations committed between October 1, 2021, and April 1, 2022, will result in a written warning. While violations committed after April 1, 2022, will incur a minimum fine of $75.
Individual violations result in separate fines.
Repeat offenders may be taken to court and face additional penalties.
8. What are the Signage Requirements?
All retail businesses impacted by the plastic bag ban must post signs at all points of sale explaining to customers that the business will no longer provide disposable plastic bags starting October 1, 2021. The signs must be posted on July 31, 2021, and stay in place for 6 months.
9. Are Reusable Bags Safe?
Reusable shopping bags are safe to use. Early in the COVID-19 pandemic, many bag bans throughout the U.S. were lifted and yet-to-be implemented bans, like the ban in Philadelphia were delayed due to uncertainty about the safety of reusable bags.
It has now been determined that reusable bags are safe to use and there is no link between reusable bags and the spread of Coronavirus. Scientists who have looked into the matter have asked members of the plastics industry to declare reusable bags safe.
10. Will Anything Be Done to Determine if the Bag Ban is Effective?
The Mayor's office will work with both City departments and third-party research partners to evaluate the ban and determine if the law is effective. The results of this research will be shared with residents in a timely fashion as soon as the information is finalized.
You can find even more helpful information about the bag ban directly on the Philadelphia government website.
Get Ready to Go Green
Custom reusable bags are in very high demand in Philadelphia, making now a great time to create your very own reusable bags. Your customers need reusable bags and will appreciate your efforts to help and the custom bags will promote your retail business with every use.
We offer certified custom reusable bags which are made to exact specifications and are sure to hold up under regular use. You will secure a great ROI and your customers will be able to count on your bags.
Shop our full line of reusable grocery bags and fill out a quote form to get your customized quote or contact Factory Direct Promos by phone to get the help you need at 1-866-222-0949.
Tagged