Colorado Bag Ban…Here's How Your Business Can Benefit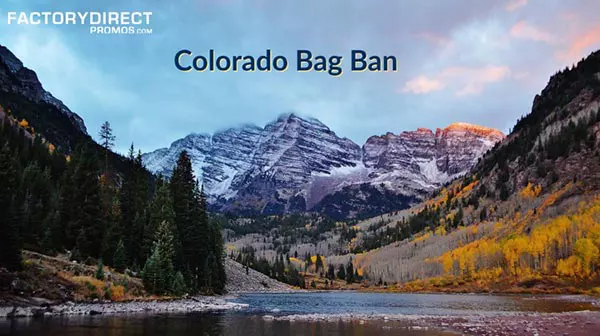 The Centennial State Goes Green with Bag Ban
A single-use plastic bag ban passed in Colorado after years of hard work. While the state ban was worked out, several cities throughout the state passed their own plastic bag bans and fees; showing that there was interest and support for such a measure.
We have been following the efforts to ban plastic bags in Colorado since the beginning as part of our bag ban map.
Read on to find out more about the plastic bag ban in Colorado and find out how your business can benefit.
Details About Colorado Bag Ban
Colorado's law prohibits single-use plastic bags along with polystyrene containers.
The ban will be rolled out in stages to help both businesses and consumers adjust to the measure.
Starting in 2023, a 10-cent fee will be charged for both single-use plastic bags and paper bags made from recycled content.
As of January 1, 2024, single-use plastic bags and polystyrene containers will be banned. Fortunately, impacted businesses will be allowed to work through any remaining inventory. Recycled content paper bags will still be allowed for a 10-cent fee.
Colorado's bag ban will apply to most stores and restaurants. There are restrictions about the size of the business covered by the ban, with many small businesses being exempt. Some business owners have expressed confusion around the language explaining which businesses are exempt.
What the Bag Ban Means for Your Business
Shoppers in Colorado will begin to make the transition to reusable shopping bags.
Even though the actual ban will not start for a while, consumers will still begin to make the switch to reusable bags.
This is great for the planet and will reduce trash and litter, but it is also a unique opportunity for your business to connect with customers.
Go Reusable and Build a Rapport
Custom reusable shopping bags fulfill a need for customers. Promotional items that are useful and needed are more likely to be used. Your customers are sure to appreciate your efforts, so not only will they be happy to use your branded bags, but they'll also see your brand as thoughtful and tuned into their needs.
Building a rapport with your customers can lead to a long-lasting relationship. Studies show that people are more likely to do business with a brand when they own promotional items from that brand.
Build Your Brand
Custom reusable shopping bags are also a great way to grow your business. As your customers use your branded shopping bags they will become more familiar with your message, but they will also put your brand on display and spread your message to a wider audience.
Custom reusable bags typically last for several years given normal use, meaning the bags you create now can still be out there promoting your business in a few years. This is a great return on investment and allows you to really make the most of your marketing budget.
Create Your Bag
We are serious about going green and we are passionate about helping our customers find ways to connect with their customers while also helping the planet.
We also work directly with our factory which enables us to reduce both turnaround time and cost, saving you time and money.
We hold ISO certification as further evidence of our commitment to our customers and we are excited to help you create your bag.
Tagged